This article first appeared in The Edge Malaysia Weekly, on February 17, 2020 - February 23, 2020.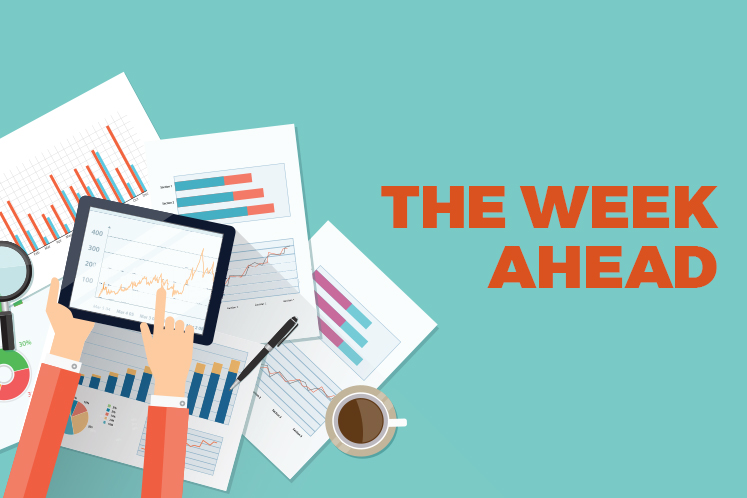 The ongoing COVID-19 outbreak may have put major events worldwide on hold, but the investing community will be closely monitoring economic data releases and updates from China as the market thirsts for good news amid the doom and gloom.
On the domestic front, Malaysia's January Consumer Price Index is scheduled to be out on Friday. Economists polled by Bloomberg expect a reading of 1.8% compared with 1% reported for December 2019. With inflation under control, Bank Negara Malaysia has enough room for further support measures, says foreign exchange market watcher FXTM.
"However, the prospects of more monetary policy easing could weigh on the ringgit's performance. For the week ahead, should the US$/RM break meaningfully above its 100-day moving average of 4.14, driven by a sustained period of risk-off sentiment, stronger resistance should arrive at its 200-day moving average of 4.15," says Han Tan, market analyst at FXTM.
In its first monetary policy meeting for the year on Jan 22, Bank Negara had reduced the overnight policy rate (OPR) to 2.75% from 3.00%. The ceiling and floor rates of the corridor of the OPR were correspondingly reduced to 3% and 2.5% respectively. The next monetary policy meeting will be held on March 3.
Also on Friday, the central bank will release its statement of accounts as at Feb 14.
On the corporate side, AirAsia X Bhd will be releasing its fourth quarter 2019 results on Wednesday. The long-haul, low-cost airline is still reeling from losses as at the nine-month period ended Sept 30, 2019, with net loss of RM393.7 million.
Other major companies listed on Bursa Malaysia that will be releasing their results for the quarter ended Dec 31, 2019 include Alliance Bank Malaysia Bhd (Tuesday), AMMB Holdings Bhd (Thursday), Axiata Group Bhd (Friday), Carlsberg Brewery Malaysia Bhd (Monday), IOI Corporation Bhd (Tuesday), Maxis Bhd (Friday), Petronas Chemicals Group Bhd and Petronas Gas Bhd (Tuesday).
On Feb 18, Singapore will present its 2020 budget. UOB Global Economics & Market Research's Barnabas Gan expects the budget to be expansionary, given the slowdown seen in the domestic economy, coupled with its rising needs, especially in healthcare, education and security and defence.
Prior to announcing the budget, the city state will release the final print of its 4Q2019 GDP growth on Monday. The advance estimates penned a growth of 0.8% year on year in 4Q2019.
Of greater interest will be the extent of downgrade to the full-year 2020 growth, owing to the COVID-19 outbreak, states UOB in a Feb 14 note.
Attention will be on how the People's Bank of China will guide the renminbi through its interest rate decision, which will be released on Thursday. The COVID-19 epidemic will play a huge role in the central bank's monetary policy.
The current interest rate is at 4.15%, and the bank has been reducing its interest rate since June 2011. The current rate was the result of the November 2019 interest rate decision.
Bank Indonesia (BI) will announce its monetary policy on Thursday. Of the 10 economists polled in a Bloomberg survey (as at Feb 14), seven expect the BI to cut its policy seven-day reverse repo rate by 25 basis points to 4.75% while three expect BI to stay on hold at 5%.
Thailand will announce its 4Q GDP data on Monday. A Bloomberg poll suggests GDP growth would have slowed to 2% year on year during the quarter, from 2.4% in the third quarter, dragging down full-year GDP growth to 2.4%.
Japan will announce its 4Q GDP data on Monday. Economists polled by Bloomberg expect a contraction of 3.8% annualised in the quarter, worsening from the 1.8% contraction in the preceding quarter.
The US markets are closed on Monday for Presidents' Day holi­day while Canada will celebrate Family Day. Although it will be a light week for economic data, markets will look forward to the release of the January 2020 Federal Open Market Committee minutes on Thursday.
On Tuesday,  important economic indicators, such as the UK's ILO Unemployment Rate for the three months to December 2019 will be released. From September to November, the rate was 3.8%.