This article first appeared in The Edge Malaysia Weekly, on March 19, 2018 - March 25, 2018.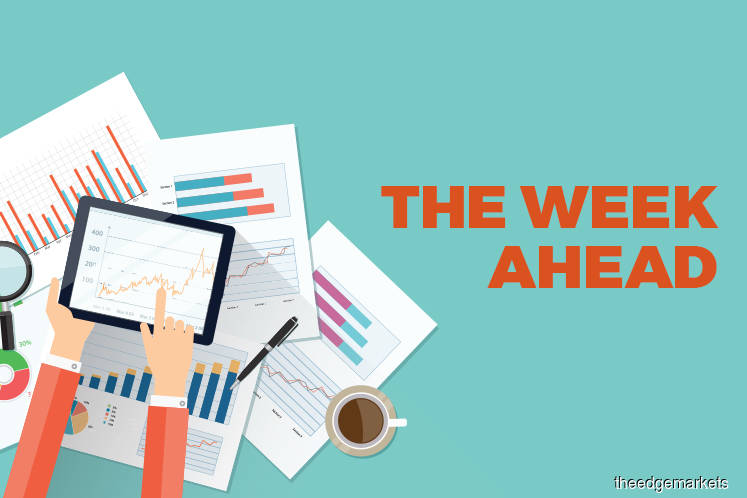 CHINA could name a new central banker with wider powers by Monday while Jerome Powell's first post rate-meeting press conference as US Federal Reserve chief on Wednesday (past midnight on March 22 in Kuala Lumpur) will command attention as economists and investors around the globe look for guidance on anticipated rate hikes for the rest of the year.
Expectations are that the Federal Open Market Committee will lift rates this week. Key rate announcements are also due from the Reserve Bank of New Zealand on March 21 while Taiwan, the Philippines' BSP, Bank Indonesia and the Bank of England will release theirs on March 22.
Bank Negara Malaysia will release its reserves figures for mid-March on March 22 but the main economic data release for Kuala Lumpur this week is the Consumer Price Index (CPI) for February on Wednesday (March 21).
Headline inflation fell to its lowest in 13 months in January at 2.7% versus 3.5% in December, which brought the CPI to 3.7% for the whole of 2017, nearer to the upper end of official projections of 3% to 4% for last year. Malaysia projects inflation to be between 2.5% and 3.5% this year, a moderating trend amid a high base effect. Recall that headline inflation spiked to 4.5% in February last year and 4.9% in March 2017. Bank Negara's take would be among the things to watch next week with the release of its annual report (March 28).
For now, economists see changes to the ringgit and oil prices potentially posing an upside risk to inflation later in the year.
(For details on notable revisions to CPI weights in January, see State of the Nation on page 18).
CPI data will also be released in Hong Kong and the UK (March 20), Singapore (March 23) and Canada (March 23). Other key economic releases this week include Japan and the eurozone's respective trade balances (March 19). The eurozone will also see the release of the ZEW Index and Consumer Sentiment Index (March 20) and the Purchasing Managers' Index (PMI) on March 22. But attention will likely be on the European Union leaders' summit in Brussels to glean details on Brexit negotiations.
Oil prices are also in focus following news of a delay in Saudi Aramco's planned US$2 trillion initial public offering in London to next year. Eyes will also be on the land sale scandal in Japan that has embroiled Prime Minister Shinzo Abe and Finance Minister Taro Aso as well as developments in the White House and the Stormy Daniels case, which pundits say is tantamount to election law violation.
On the Malaysian corporate front, Red Sena Bhd and Penang-based integrated poultry company CAB Cakaran Corp Bhd are having their annual general meetings on Thursday and Friday, respectively. Red Sena, the only locally-listed special purpose acquisition company (SPAC) in the food and beverage industry, has until December to make a qualifying acquisition or be liquidated like two other oil-and-gas SPACs.
Companies holding their extraordinary general meetings this week include Kim Loong Resources Bhd (March 20), GFM Services Bhd (March 21) and Ta Ann Holdings Bhd (March 23).
Niche oil palm planter and miller Kim Loong is seeking shareholders' approval to split its shares into three and thereafter give a free warrant for every 20 subdivided shares.
GFM wants approval for its proposed RM130 million acquisition of KP Mukah Sdn Bhd (KPMD), which holds a facilities management concession from the government and Universiti-Institut Teknologi Mara. The concession for UiTM Mukah runs until September 2035. According to proforma numbers provided in the circular to shareholders, the acquisition will boost earnings and gearing is expected to rise to 3.9 times from 0.26 times as at end-2016. Total borrowings are expected to jump to RM342.3 million, including KPMD's RM258.5 million borrowings (as at end-2016) and assuming RM68 million debt is taken to finance the purchase.
Timber and palm oil producer Ta Ann will seek approval for its proposed acquisition of 30.39% of Sarawak Plantation Bhd for RM169.94 million (RM2 per share) from a company controlled by its executive chairman and some directors. Independent advisor Inter-Pacific Securities Sdn Bhd opines that the proposed acquisition is "fair and reasonable" to non-interested shareholders and recommend that they vote in favour.
Meanwhile, the nation continues to await the announcement of the 14th general election (GE14). Last week, two mainstream English papers cited unnamed sources who said GE14 is set to take place in April or early May, with parliament set to be dissolved between March 28 and 30 and the Barisan Nasional manifesto slated to be unveiled April 7.
The ongoing parliament session, scheduled to run until April 5, is expected to pass plans to redraw electoral boundaries for more than half of Malaysia's 222 parliamentary constituencies this week. Only a simple majority is needed. Legislation to outlaw "fake news" could also be tabled in the current seating if time permits. The current government term ends on June 24 and GE14 has to take place by August. (See our weekly pre-GE14 coverage on Pages 58 to 61) .
Save by subscribing to us for your print and/or digital copy.
P/S: The Edge is also available on Apple's AppStore and Androids' Google Play.