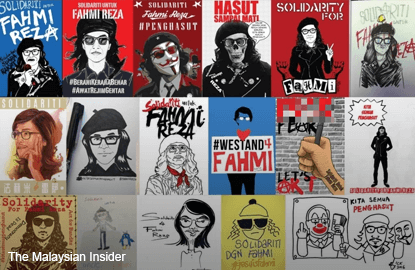 KUALA LUMPUR (Feb 5): Images of Prime Minister Datuk Seri Najib Razak dolled up in chalk-white makeup, with a bright red gash for a smile and neon green (or occasionally lush orange) hair, greet visitors to the Facebook community page called Grupa.
It is an acronym for "Grafik Rebel Untuk Protes & Aktivisme", or "Rebel Graphics for Protests and Activism", which brought together several graphic designers and digital artists to design posters for last year's Bersih protest in Kuala Lumpur.
Now, they have set their sights on a new project: flooding the social media with pictures of a clown-faced Najib – sometimes grinning, sometimes sad, and sometimes with a rose dangling from between his lips – along with the hashtag #KitaSemuaPenghasut (we are all seditious).
In Malaysia, where an award-winning cartoonist was censured for drawing satirical comics on the prime minister and his wife, Grupa's antics are more than just a colourful dig at Najib.
They told The Malaysian Insider they were risking arrest to stand up for fellow graphic artist Fahmi Reza, who posted the first clown caricature of Najib on his own Twitter on Jan 31, and promptly attracted police attention.
In Fahmi's debut clown poster of Najib, he drew a fang-like smile on the prime minister's face and sinister-looking eyebrows, with the caption: "In 2015, the Sedition Act was used 91 times. Tapi dalam negara yang penuh dengan korupsi, kita semua penghasut (but in a country that is full of corruption, we are all seditious)."
It was in response to the attorney-general's decision to close investigations into the RM2.6 billion found in Najib's personal bank accounts.
Not impressed, the newly-set up Twitter account for the police's Cyber Investigation Response Centre (@OfficialPcirc) warned him that he was being watched.
"My first reaction was shock," Fahmi told The Malaysian Insider as he recalled receiving the tweet.
"I didn't know the existence of that police cyber unit, PCIRC, until they tweeted me that warning."
But that feeling quickly turned to outrage when he read its tweet, especially the words "Gunakan dgn berhemah&berlandaskan undang2" (use properly and in accordance with the law).
Big Brother is watching
Defiant, Fahmi immediately wrote a post on Facebook in Malay, which translates to, "In a country that uses laws to protect the corrupt and oppress those brave enough to speak out, it is time we abandon all niceties when fighting the corrupt rulers".
He also posted another satirical artwork on Twitter, using the police's words against them in the caption, along with the hashtag #BigBrotherIsWatchingYou, an ode to George Orwell's 1984.
The activist, who recalled his arrest 12 years ago for drawing a poster on police brutality, didn't expect the Internet's graphic artist community to rise up with him in solidarity this time around.
The #KitaSemuaPenghasut movement was a "new wave graphic rebellion against the Old Order", he said, and the response has been overwhelming.
"It was beyond my expectations. It proved to me that I was not alone. There were others who share my outrage.
"In the past, graphic designers have largely kept themselves out of the limelight when it came to politics and activism. Grupa is a breath of fresh air," said Fahmi.
On Grupa's Facebook, fresh caricatures of Najib are posted every hour, and social media users are lapping it up.
"Make a shirt of it, I'd buy it," urged Facebook user Apisz Fumi in the comments section.
"That is one frightening image," observed Richard Lee, to a digitally edited picture of Najib baring rotten, bleeding teeth and a cheerfully bright red clown nose.
Grupa said the movement came about when they decided to produce clown-faced posters of Najib to show solidarity with a fellow graphic artist and disgust at the ruling class for "constantly abusing the law".
"We started releasing several posters on our Facebook page and before we knew it, we even had the public submitting their own versions of Clown Najib to us.
"To date, we have released 38 posters depicting Najib as a clown," the group said, adding that they received dozens of paintings from "the citizenry" a day through email.
But the group, as well as Fahmi, risk running afoul of the law, more specifically Section 233 of the Communications and Multimedia Act 1998.
A conviction could land the artists a fine of up to RM50,000, a year's jail, or both.
And as if to drive this point home, @OfficialPcirc's only tweet since issuing the warning to Fahmi comprised an image breaking down that same law.
But the prospect of having the police cyber unit clamp down on them doesn't seem to perturb Grupa, even though they risk courting more trouble than Fahmi, given the flood of caricatures on their page.
They said they were frightened of just one thing: being trampled over should they not voice out.
"So far, no authorities have contacted us, but that may change. We are looking forward to it," they added.
Global attention
For the time being, the group plans to continue sharing clown images of the prime minister as long as it believes citizens are being repressed and denied their right to free speech and freedom of expression.
Besides receiving Facebook likes and shares, they gained international publicity with a BBC report on them titled "PM left red nosed by censorship protest".
Grupa said they were left "humbled and surprised" by the attention.
"We didn't expect it to go big...
"Actually we did lah, I mean, you mess with freedom of expression this is what you get lah, blowback," they quipped.
Despite this, the group is strict about maintaining anonymity.
"We are an anonymous collective group of graphic designers and digital artists who work as a team devoid of a formal hierarchy. There is no one in charge as we feel that our artwork should do the talking for us.
"You can say that our posters are in charge."
Fahmi said he was ecstatic by the Malaysian graphic design community's strong spirit of resistance.
"It shows that they can ban a poster, but they can't ban the idea behind the poster. Because ideas are bulletproof."
And he is confident Malaysia's #KitaSemuaPenghasut movement will herald a change in society.
"The outpouring of solidarity posters from graphic artists with their own versions of a clown-faced Najib despite the police warning against it was a clear act of defiance and represents a shift in the way ordinary people react to police intimidation.
"When people are emboldened to defy and stand up against injustice, it chips away at the power structure that keeps people docile."
Clearly emboldened by the movement, Fahmi shared the BBC report on his Twitter yesterday, with the caption, "#KitaSemuaPenghasut has spread. The rebellion has begun."
He told The Malaysian Insider: "That BBC took interest in the story shows how preposterous it is to consider a satirical graphic featuring the prime minister to be a threat."