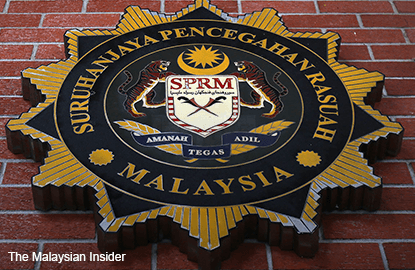 (Nov 5): Finance Ministry-owned SRC International Sdn Bhd wants the Attorney-General (A-G) to probe those responsible for leakages and possible sale of classified information, before it cooperates with anti-graft investigators over alleged misappropriation of funds.
In a statement today, the former subsidiary of state-owned investment firm 1Malaysia Development Berhad (1MDB) said it was willing to cooperate fully with the Malaysian Anti-Corruption Commission (MACC) after the A-G had concluded investigations into the matter.
SRC International, which is in the news over a RM4 billion loan it took from retirement fund Kumpulan Wang Amanah Pekerja (KWAP), denied that the money had been misappropriated and said it was "dismayed" that some media outlets had "published fabricated materials with malicious intent" to suggest corruption.
"We are concerned about the recent wave of leakages or possible sale of classified information to members of the media and irresponsible, self-interested politicians.
"This appears to be part of a deliberate and concentrated campaign to undermine state-linked companies and, by extension, the government.
"We therefore request that the Attorney-General initiate an independent investigation to identify those responsible for the leakages or possible sale of classified information, involving agenda-driven politicians or corrupt officers.
"Upon completion of this investigation by the Attorney-General, we will fully cooperate with MACC or any other lawful authorities with respect to any enquiries," SRC International said.
News portal Malaysiakini and whistle-blower website Sarawak Report had previously published an alleged charge sheet against Prime Minister Seri Najib Razak – who is also the finance minister – and a diagram showing alleged fund flows into his accounts.
The supposed documents were used to back up claims that RM4 billion loan obtained by SRC International had been been misappropriated.
SRC International has previously denied the claim which is said was based on fabricated documents. It said an internal investigation was under way.
In its statement today, SRC International said the RM4 billion loan was fully accounted for in its balance sheet in accordance with standard accounting and governance practices.
The company added that its business has been negatively impacted due to the leakages and that it did not wish to either be a victim or a scapegoat in what it called a "politically motivated campaign". – The Malaysian Insider