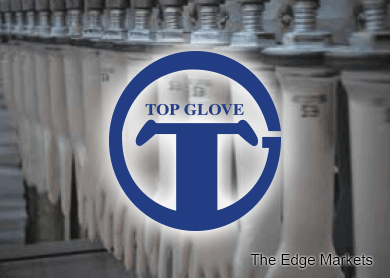 Top Glove Corp Bhd
(June 15, RM5.85)
Maintain buy with a target price of RM6.92: Top Glove is due to announce its results for the third quarter ended May of financial year 2015 (3QFY15) tomorrow. We believe 3QFY15 net profit could exceed expectations on the back of: (i) 8% to 12% sequential top line growth; and (ii) better-than-expected margins.
Quarter-on-quarter (q-o-q), we project sequential sales volume growth to increase by high single to low double digits as we understand that production in Factory F29 was ramped up to 30% (from about 10% in 2Q) while overall 3Q utilisation rates were higher at 75% to 77% (2Q:73%). 
We understand that the stronger sequential sales volume largely stemmed from a better take-up rate of the group's nitrile gloves and to a smaller extent a pick-up in customers' restocking activities (given that latex prices had stabilised during the quarter).
All in, with the 3Q US dollar rate averaging marginally higher at RM3.64 (2Q: RM3.55) and stable average selling prices (ASPs) q-o-q, we expect 3Q top line to rise by 8% to 12% q-o-q. Its 3Q margins could expand further in the coming quarter as we understand the group  achieved a higher proportion of nitrile gloves (3Q: 30%, 2Q: 25%), which enjoy higher gross margins of 23% to 24% (compared with 21% to 22% for powder-free latex gloves), in its 3Q production mix.  Top Glove's q-o-q higher 3Q utilisation rates should also help to improve the absorption of fixed overheads, which would lead to a lower fixed cost per unit, while we gathered that its earlier efforts to enhance the efficiency of its existing nitrile glove production lines resulted in a reduction in product defects and maintenance downtime. 
While these could partially be offset by the 5% to 10% q-o-q recovery in latex prices, we estimate the above to translate into a one- to 1.5-percentage-point (ppt) expansion in 3Q earnings before interest and tax (Ebit) margin. As such, we believe that full-year FY15 Ebit margin would come in above our projection of 9.5%.
Continuous quality improvement initiatives are finally bearing fruit. The higher proportion of nitrile gloves in Top Glove's 3Q production mix underlines the significant progress that the group has achieved in the nitrile glove segment.  Management believes that its nitrile gloves are gaining better acceptance among the major glove distributors and attributed this to the continuous quality improvement initiatives and installation of higher-speed production lines over the last four quarters. 
We note that this has resulted in a slight improvement in its nitrile glove sales lead time to about 50 days currently (from 45 to 50 days in the last two quarters). Meanwhile, we understand that sales lead time for the group's latex gloves had remained stable at 45 to 50 days in the last two quarters as pricing pressure within this segment had abated due to the absence of new capacity expansion by other players.
Expansion plans are progressing according to schedule. Management guided that expansion plans are on track with approximately 30% of its newly-commissioned Factory 29 lines already up and running. 
The remaining production lines are slated to come onstream progressively over the next six months with full commissioning targeted in early 2016. Beyond that, Top Glove will be accelerating its expansion plans through the addition of 12 and 14 new lines in existing factories (F6 and F27 respectively), on top of its previously planned production facilities (F29 and F30). Upon full commissioning, Top Glove's total annual production capacity would be lifted to 52.2 billion pieces (from 42.6 billion pieces currently) by September 2016. 
Given the recent inroads into the nitrile glove segment, we note that all of Top Glove's upcoming expansion plans (except F6) are dedicated to the production of nitrile gloves. The additional 8.2 billion pieces per year of new nitrile glove production capacity in the pipeline will boost Top Glove's nitrile glove production capacity to approximately 16.2 billion pieces (three-year projected nitrile capacity compound annual growth rate [CAGR] of 27%) over the next three years.
The pace of US dollar strengthening shows no sign of slowing down as the greenback extends its gains to a nine-year high against the ringgit. A firmer US dollar remains a boon to the export-oriented glove manufacturing sector, since glove makers are expected to benefit from higher ringgit-denominated revenue given that the bulk of sales receipts are in US dollars.  We note that the current US dollar exchange rate of RM3.75 remains well above 2014's average of RM3.27, and this should help to offset declining nitrile glove ASPs and thus alleviate the risk of near-term margin compression experienced by the nitrile glove segment. Our sensitivity analysis suggests that every 1% appreciation in the US dollar to ringgit exchange rate would lift Top Glove's FY15 to FY17 earnings by 5% to 6%.
We raise FY15 to FY17 net profit forecasts by 16% to 21% after we lift our FY15 to FY17 Ebit margin assumptions by 1.5 to 2.0 ppt to account for a 3.5% to 6.7% reduction in our raw material price assumptions and better operational efficiency arising from the group's line enhancement initiatives. Maintain "buy" with a revised target price of RM6.92 based on an unchanged 16 times FY16F price-earnings ratio (PER) — close to one standard deviation above the sector's historical mean PER of 14.7 times. Although sector valuation has been fully priced in — (i) gains from the firmer US dollar, (ii) cost savings from softening raw material prices and (iii) future capacity expansion plans — we continue to see an attractive proposition in Top Glove on the back of the widening breadth in the sector's valuations.
At 13.4 times FY16F PER, Top Glove's valuations are compelling compared with Kossan Rubber Industries Bhd and Hartalega Holdings Bhd (19 times and 24 times respectively). We believe the steep discount is unjustified given the progress achieved in the nitrile glove segment and projected three-year earnings CAGR of 16% (18% for Kossan and Hartalega [17% ]) . — UOB Kay Hian Research, June 15
This article first appeared in The Edge Financial Daily, on June 16, 2015.