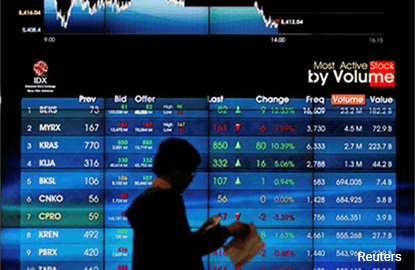 BENGALURU (Jan 19): Southeast Asian stock markets were guarded on Thursday, after Federal Reserve Chair Janet Yellen signalled faster interest rate increases in 2017, and as investors remained anxious ahead of U.S. President-elect Trump's inauguration on Friday.
The dollar inched up against major peers early on Thursday, after Yellen said on Wednesday that waiting too long to begin raising rates could "risk a nasty surprise down the road," and that it "makes sense" for the Fed to gradually lift rates.
 
Investors are generally optimistic about stock market returns over the next six months, according to a UBS survey, but the potential fallout of Trump's protectionist stance has also unnerved some.
Yellen's bullish comments overnight strengthened the dollar, and "the gains at their end spilled over into Asian markets", said Victor Felix, an analyst with AB Capital Securities in Manila.
"Most of the uncertainties for the week, except for Trump's inauguration on Friday, have already materialized, so investors are now just waiting for that one event," he said.
Philippine shares gained the most in the region, rising 0.7%, supported by consumer staples and financials.
The index rose for a second straight session and touched its biggest intra-day percentage gain in more than a week.
"There is really not much material news to work on in the Philippines market, so the weak gains in the market are insignificant," Felix said.
Beverage maker Universal Robina Corp and Metropolitan Bank and Trust Co were up 2% each.
Thailand shares were slightly down, with banks and consumer staple stocks losing the most.
Siam Commercial Bank PCL, the country's third-largest lender by assets, fell 0.6%, while top convenience store chain CP All PCL shed 1.7%.
Stocks in Vietnam, Singapore, Malaysia and Indonesia were largely muted, while MSCI's broadest index of Asia-Pacific shares outside Japan was 0.4% down at 0340 GMT. 
             
SOUTHEAST ASIAN STOCK MARKETS: 
Change at 0340 GMT
| | | | |
| --- | --- | --- | --- |
| Market | Current | Prev close | Pct Move |
| Singapore | 3004.48 | 3000.22 | 0.14 |
| Bangkok | 1558.75 | 1560.83 | -0.13 |
| Manila | 7209.16 | 7156.36 | 0.74 |
| Jakarta | 5301.424 | 5294.784 | 0.13 |
| Kuala Lumpur | 1664.21 | 1665.02 | -0.05 |
| Ho Chi Minh | 684.08 | 683.28 | 0.12 |
Change on year
| | | | |
| --- | --- | --- | --- |
| Market | Current | End 2016 | Pct Move |
| Singapore | 3004.48 | 2880.76 | 4.29 |
| Bangkok | 1558.75 | 1542.94 | 1.02 |
| Manila | 7209.16 | 6952.08 | 3.70 |
| Jakarta | 5301.424 | 5296.711 | 0.09 |
| Kuala Lumpur | 1664.21 | 1641.73 | 1.37 |
| Ho Chi Minh | 684.08 | 672.01 | 1.80 |