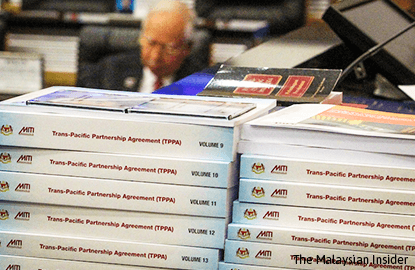 KUALA LUMPUR (Jan 26): Opposition leader Datuk Seri Dr Wan Azizah Wan Ismail today urged Barisan Nasional (BN) to allow its lawmakers to vote for the Trans-Pacific Partnership Agreement (TPPA) according to their conscience.
The TPPA is expected to be passed in the Dewan Rakyat after a two-day special parliamentary meeting on the deal.
As BN has more than enough MPs to push it through, its lawmakers are not likely to go against the party line which wants the trade pact.
"If we can negotiate TPPA in secret, then we can allow the lawmakers to vote in secret," Dr Wan Azizah told the Dewan Rakyat today.
"If we support this nation, we are supporting the privatisation of our country's sovereignty. This is a trans-Pacific privatisation agreement."
She added that Malaysians could not trust assurances by the Barisan Nasional government that TPPA would be beneficial to the country, as it had failed to stick to its promise that the goods and services tax (GST) would lead to lower prices for certain products.
She said the country did not have to be part of the TPP to become a high-income nation.
Meanwhile, Dr Wan Azizah told a press conference later that TPPA was not a normal or equal trade agreement.
"TPPA brings about the possibility of untold costs to the federal and state governments via frivolous and costly lawsuits as a result of the Investor State Dispute Settlements, involving countries with companies with a long history of such suits.
"TPPA will delay the entry of much needed generics into the market and maintain medicine prices at high and burdensome levels," she said.