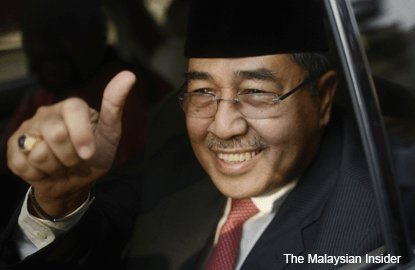 KUALA LUMPUR (Feb 3): Datuk Seri Ahmad Bashah Md Hanipah said he would only announce his agenda for Kedah after swearing in as menteri besar tomorrow.
Ahmad Bashah said he would also host a feast tomorrow to celebrate his appointment, which comes two weeks after he led a movement to oust former menteri besar Datuk Seri Mukhriz Mahathir.
"After swearing in (I will announce my plans), God willing. After swearing in, there will be a feast," he told reporters when asked what he intended to do for the people of Kedah.
He also confirmed he would reshuffle the state executive council soon.
"Yes, the exco will be reshuffled," said Ahmad Bashah, who replaces Mukhriz as the new menteri besar after the latter announced his resignation this morning.
Ahmad Bashah said he was also resigning as deputy minister of domestic trade, cooperatives and consumerism, as well as senator.
He said he would leave it to Prime Minister Datuk Seri Najib Razak to announce his replacement.
"I will step down as senator and deputy minister before my swearing-in ceremony. On who will be replacing me, you will have to ask the prime minister," he said.
He also denied he was after power, saying he only wished to see Umno remain strong.
"I am not hungry for posts. Because becoming menteri besar was not my ambition. But, because it has happened, I accept it.
"My goal is to see Umno continue to stay strong," he said.
On Jan 20, Ahmad Bashah led a press conference comprising Kedah Umno division and wing leaders, all of whom declared they had lost confidence in Mukhriz's leadership and wanted Najib to intervene.
The leadership tussle came to a close when Mukhriz announced this morning he was resigning as menteri besar after losing the support of the majority of the state assemblymen.