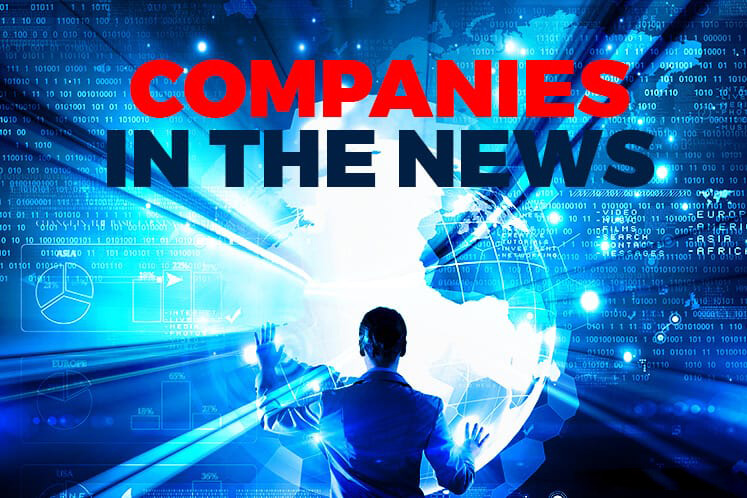 KUALA LUMPUR (Jan 17): Based on corporate announcements and news flow today, stocks in focus on Thursday (Jan 18) may include the following: Vizione Holdings Bhd, D'nonce Technology Bhd, Dataprep Holdings Bhd, Adventa Bhd, Fajarbaru Builder Group Bhd, Mah Sing Group Bhd, Green Packet Bhd, Eversendai Corp Bhd, Maxis Bhd, Poh Kong Holdings Bhd and Tatt Giap Group Bhd.
Vizione Holdings Bhd has proposed a private placement of up to 406.71 million shares at an indicative price of 16.5 sen per share to raise as much as RM67.11 million in order to fund its construction projects.
Of the proceeds, a maximum of RM32.9 million will be allocated to Vizione's construction of affordable housing in Gombak while a maximum of RM32.9 million would be allocated towards the construction of four office blocks in Semenyih, Selangor.
D'nonce Technology Bhd's group managing director, CEO and single largest shareholder, Law Kim Choon, is looking to sell a substantial block of his shares in the company.
The company confirmed news reports that Law is in the midst of negotiations with potential investors to dispose of a substantial block of his shares.
Dataprep Holdings Bhd has entered into a Memorandum of Collaboration with URC E-Commerce (M) Sdn Bhd to coordinate the provision of e-commerce services and solutions.
The project covers training, consultancy and business services in areas where both companies can leverage and benefit from each other, and the memorandum is effective for three years.
Adventa Bhd has proposed to undertake a three-for-five rights issue together with free warrants on the basis of one warrant for every two rights shares subscribed, raising RM50.42 million for its future business expansion.
The medical devices manufacturer plans to issue 91.67 million new rights shares at 55 sen apiece, as well as some 45.84 million free warrants with a five-year tenure, each convertible to one Adventa share at an exercise price of 65 sen per warrant.
Fajarbaru Builder Group Bhd's (FBG) subsidiary Fajarbaru Builder Group Sdn Bhd has secured a RM12.93 million contract to upgrade the satellite building at the Kuala Lumpur International Airport (KLIA) Complex.
The contract is for a period of 14 months, starting from Feb 1, 2018 to March 31, 2019, and will entail works for the mezzanine, passenger and ground floors.
It is expected to contribute positively to FBG's earnings and net assets for the financial years ending June 30, 2018, and June 30, 2019.
Mah Sing Group Bhd has teamed up with EduCity Iskandar Malaysia Sdn Bhd (EduCity), a wholly-owned subsidiary of Iskandar Investment Sdn Bhd, to provide student accommodation at Phase 2 of Mah Sing's [email protected] Executive Suites in Iskandar Puteri, Johor.
Mah Sing today inked a Memorandum of Understanding with Educity to offer 183 fully-furnished apartment units, which would cater to 370 students, out of the 583 available units.
Green Packet Bhd is expected to announce that it has secured an RM300 million contract to supply set-top boxes to MYTV Broadcasting Sdn Bhd, the company spearheading the national digital terrestrial television (DTT) rollout.
According to sources, the contract was awarded directly to Green Packet, which was contracted to develop the decoder and supply 4.2 million units to MYTV.
"The other contender for this contract did not meet the technical requirement, especially in terms of producing viewership reports, which was where Green Packet stood out," said one source.
Eversendai Corp Bhd bagged two contracts worth RM272 million for the structural steel works for One Za'abeel mix-use development and the Address Tower Residence IL Primo luxury high-end residential tower.
Its wholly-owned subdsidiary, Eversendai Engineering LLC Dubai, had bagged the One Za'abeel contract from Dubai's ALEC Engineering and Contracting LLC, while the IL Primo Address Tower contract was awarded by Turkey's TAV Construction.
The company said the contracts are expected to be completed in 2020.
Poh Kong Holdings Bhd is expecting to better the double digit growth in net profit achieved in its financial year ended July 31, 2017 (FY17) in FY18.
This comes with the extended upward trend in gold prices, as well as expectations of improving consumer demand, said Poh Kong executive chairman Datuk Choon Yee Seiong.
"We are expecting FY18 to be better than FY17. Overall, the global economy is picking up, Malaysia included," Choon, who has seen a pickup in sales in the recent quarters, said.
Lenders want Aircel Ltd promoter, Maxis Bhd, to inject at least US$1 billion (RM3.95 billion) into the former so it can meet financial obligations, according to a report by India's business news portal, Business Standard.
The report, published on Tuesday, said Maxis' sister company, also involved in providing cellular services, is facing Rs170 billion (RM10.49 billion) of non-performing assets, and its lenders have issued a warning that it either infuses more funds into the company or go to the National Companies Law Tribunal (NCLT).
"The lenders have called a meeting on Jan 19 to take a final call on the company's future," the report read. Aircel is 74%-owned by Binariang GSM Sdn Bhd, which in turn owns a 64.91% stake in Maxis.
Tatt Giap Group Bhd's founder Datuk Siah Kok Poay has ceased to be a substantial shareholder in the group after disposing of another 8.36 million shares in the company, or a 4.9% stake, today.
Siah, who is also Tatt Giap executive chairman, sold the shares via his private vehicle Giapxin Sdn Bhd, leaving him with a 3.39% stake in the group, the group's filings with the stock exchange showed.
According to Bloomberg data, the 8.36 million shares crossed in a single transaction at 12 sen per share, or RM1 million in all, today afternoon. At the time of writing, it was unknown who the buyer of the stake was.