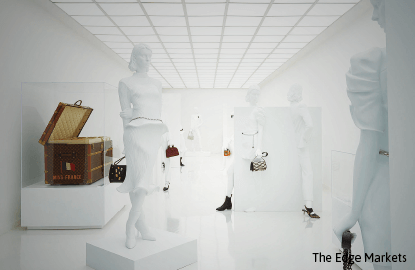 This article first appeared in The Edge Financial Daily, on September 29, 2015.
THERE are few brands who can embody style and class like Louis Vuitton — although the brand started with the production of stackable trunks, it has grown into a major powerhouse in the fashion industry, with market research company Millward Brown naming Louis Vuitton the world's 29th most valuable brand. Everyone, from royalty, celebrities and top athletes to your everyday teenager, wants to be seen carrying a Louis Vuitton purse, bag or wallet. 
To celebrate its incredible success in the industry, an intriguing new exhibition entitled Series 3 has arrived in London. Following the success of previous exhibitions in Shanghai and Tokyo in 2014 (Series 1) and Los Angeles, Beijing, Rome and Seoul earlier this year (Series 2), Series 3 is now on display at 180 Strand, London, showcasing the photographic perspectives of Juergen Teller and Bruce Weber for Nicolas Ghesquière's autumn/winter 2015-2016 collection. 
The Series was started by Ghesquière, current creative director at Louis Vuitton, where he began a tradition of visual exploration. This time, Teller and Weber's photographic perspectives will make their debut — their focus on the diverse range of women that Ghesquière chose to define the Louis Vuitton ideal — actresses, established models and new faces representing diverse ages and different nationalities who speak equally to him. 
What exactly is Series 3? A modern and unexpected reinterpretation of a fashion show. Instead of just models donned in the latest trends walking down the runway, Louis Vuitton has instead created a museum of sorts — a sensorial experience awaits every visitor: from the processes behind the season's collection to screens playing footage of craftsmen creating their work of art that so many people the world over have fallen in love with.  
If you have ever wanted to pick at the brains behind Louis Vuitton's designs, this is the perfect place to do it — it's a rare treat into the inner workings of Ghesquière's artistic genius. The exhibition is a sprawling 13-room journey covering three floors, enabling visitors to have a look into the intricate creative processes that made this season's collection a reality. 
Series 3 is in essence a rare glimpse into the "inside world" of fashion — of the sheer amount of work that designers, models, craftsmen and others behind the scenes put into making a fashion show a reality. For the meagre minutes that each model parades their outfit on the catwalk, hundreds of others slave behind closed doors, perfecting their art in order to put on some of the world's most anticipated fashion shows. 
An array of photos taken by Teller and Weber adorn the walls — featuring celebrities such as Jennifer Connelly, Alicia Vikander, Fernanda Ly, Julia Merkelbach and Angel Rutledge. Shot in exotic locations featuring Ghesquière's passionate interest in modernist architecture, the models are shown posing at a sculptor's utopian home in Barcelona and on an old airfield in black and white film. 
Series 3, which coincides with London Fashion Week, is expected to see over 100,000 visitors walking through the "mind" of Ghesquière. The exhibition's private viewing saw celebrities like Mary McCartney, Alice Temperley, Michelle Williams, Selena Gomez, Clemence Poesy and Lily Donaldson in attendance. The exhibition's next stop is Singapore, where it is slated to open in November. 
Louis Vuitton's Series 3 Exhibition is taking place at 180 Strand, adjacent to Somerset House, and is open to the public with free admission from 10am to 8pm from now until Oct 18. Guided tours are also available, and can be booked via http://uk.louisvuitton.com/eng-gb/fashion/series-3-exhibition-london#/home.