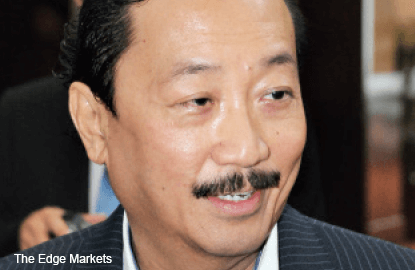 KUALA LUMPUR (NOV 8): Tan Sri Vincent Tan Chee Yioun had last Tuesday disposed of his entire 10.5% stake in The Store Corp Bhd, one of the largest and oldest existing supermarket and departmental chain in the country.
According to a filing to Bursa Malaysia today, Tan and his flagship company Berjaya Corp Bhd had ceased to be a substantial shareholder of The Store on Nov 1.
The tycoon sold some 7.24 million shares or 10.5% stake in the retail company, including the 3.91 million shares or 5.7% stake that was divested by Berjaya Corp. Both transactions were done via direct deals, but the price transacted was not revealed.
It is worth noting that last Tuesday, The Store saw a total of 6.18 million shares or 9.01% equity stake worth RM19.77 million or RM3.20 apiece traded off market. The transacted price was at a 25 sen or 8.5% premium to its closing price of RM2.95 on that day.
(See The Store sees 9.01% stake worth RM19.77m crossed off market)
A day later, the department store operator saw another 3.33 million shares or 4.87% equity stake worth RM10.67 million traded off market — also at RM3.20 per share.
(See The Store sees 4.87% stake traded off market)
The Store gained one sen or 0.34% to settle at RM2.96 today with 1,300 shares traded, giving it a market capitalisation of RM202.8 million.
Currently, The Store has 75 outlets across Malaysia, with 49 The Store Supermarket & Departmental Stores, nine Pacific Hypermarket & Departmental Stores in Peninsular Malaysia, and 17 Milimewa Superstores in Sabah, East Malaysia.
Notably, Tan is a substantial shareholder of 7-Eleven Malaysia Holdings Bhd and Caring Pharmacy Group Bhd, while Berjaya Corp has substantial stakes in Bermaz Auto Bhd, Berjaya Media Bhd, Berjaya Food Bhd, Berjaya Land Bhd, Berjaya Assets Bhd, Atlan Holdings Bhd and REDtone International Bhd.