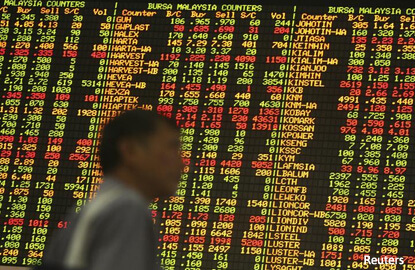 (Feb 2): Most Southeast Asian stock markets closed flat to higher on Thursday after the US Federal Reserve stuck to its mildly upbeat economic view but gave no hints on when it would next raise rates.
MSCI's broadest index of Asia-Pacific shares outside Japan was up about 0.3% after hitting its highest since mid-October earlier in the day.
"It was already priced in... Everybody was expecting that there would be no rate hikes," said Mikey Macanaig, an analyst with Sunsecurities Inc.
Vietnam shares rose 0.9% to close at their highest since February 2008, on the back of data showing a rise in industrial production in January.
Almost all sectors recorded gains, led by consumer staples and financials. Vietnam Dairy Products JSC jumped 3.1% to post its highest close in nearly eight weeks, while Saigon Beer Alcohol Beverage Corp fell over 2% to close at a two-week low.
Singapore shares closed 0.8% lower, weighed down by financials, consumer staples and telecoms.
Institutional investors net bought Singapore shares in January with financials and telecom among top buys. The index gained 5.8% in January in its biggest monthly jump since March 2016.
Financials were mainly down because of profit-taking, said Macanaig, adding: "It is still driven by Trumponomics."
DBS Group Holdings and Oversea-Chinese Banking Corp, which were net bought for a third consecutive month in January, were among the top drags on Thursday.
Indonesian shares closed at their highest since Nov 10 with material, financial and consumer stocks leading the gains.
Indonesian banks extended gains after data on Wednesday showing higher-than-expected inflation rate for January boosted prospects of higher interest rates.
Bank Negara Indonesia (Persero) Tbk PT closed at its highest in nearly 20 months, while Unilever Indonesia Tbk PT was among the top gainers.
SOUTHEAST ASIAN STOCK MARKETS
Change on the day
| | | | |
| --- | --- | --- | --- |
| Market                 | Current        | Prev close   | % move |
| Singapore              | 3044.08        | 3067.49      | -0.76 |
| Bangkok                | 1572.67        | 1576.32      | -0.23 |
| Manila                 | 7225.91        | 7227.45      | -0.02 |
| Jakarta                | 5353.713       | 5327.161     | 0.50 |
| Kuala Lumpur           | 1673.48        | 1671.54      | 0.12 |
| Ho Chi Minh            | 703.18         | 697.28       | 0.85 |
Change this year
| | | | |
| --- | --- | --- | --- |
| Market                 | Current        | End 2016     | % move |
| Singapore              | 3044.08        | 2880.76      | 5.67 |
| Bangkok                | 1572.67        | 1542.94      | 1.93 |
| Manila                 | 7225.91        | 6840.64      | 5.63 |
| Jakarta                | 5353.713       | 5296.711     | 1.08 |
| Kuala Lumpur           | 1673.48        | 1641.73      | 1.93 |
| Ho Chi Minh            | 703.18         | 664.87       | 5.76 |