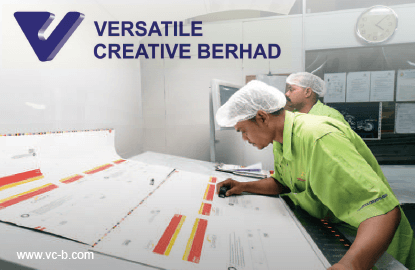 KUALA LUMPUR (Sept 20): A total of 14.32 million shares or 12.21% of Versatile Creative Bhd's issued shares were traded off market today at between 66 sen and RM1 apiece.
The prices were, however, different from those agreed between executive chairman Datuk Lee Kwee Hiang and Dr Wong Kong Yew @ Leong Kong Yew as announced on Aug 29.
Seven blocks of shares amounting to 12.32 million Versatile Creative shares, equivalent to 10.5% of the paperboard packaging producer's total issued capital, were traded at 66 sen apiece today. Another 2 million shares transacted in today's direct deal were valued at RM1 each, according to Bloomberg data.
On average, the Versatile Creative shares were sold at 70.74 sen each. Compared with today's open market price of RM1.14, it was two sen lower than the previous day's closing.
Lee's conditional share sale agreement with Wong, the chief executive officer of The Oriental Mace Group, entails the sale of the former's 21.51 million Versatile Creative shares or an 18.33% stake at 80 sen per share or RM17.21 million. The agreement was signed on Aug 26, and needs to be completed within 60 days.
If the seller of the 14.32 million shares today isn't Lee, the only other major shareholders with that many Versatile Creative shares were Iris Corp Bhd's Iris Healthcare Sdn Bhd and Rica Holdings (M) Sdn Bhd.
Iris Healthcare has been selling its stake in Versatile Creative this year. After selling 12.6 million shares via a series of direct deals between Aug 18 and 23, Iris Healthcare's shareholding in Versatile Creative amounted to 19.9 million or 16.96% as at Aug 23.
Meanwhile, Rica Holdings, a company linked to Versatile Creative's non-executive directors Wan Tak Chuen and Datuk Chew Weng Kit, owned 27.66 million Versatile Creative shares, equivalent to a 23.57% interest as at June 30.