This article first appeared in The Edge Financial Daily, on November 25, 2019.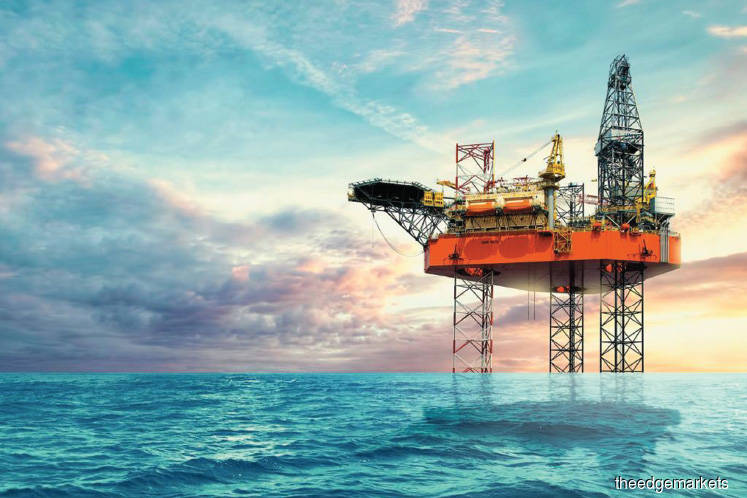 More O&G companies are expected to make cash call to revive their financial health.
KUALA LUMPUR: The stellar run among oil and gas (O&G) stocks this year seems to be a rewarding time for contrarians who answered the call for help by pumping in more money to subscribe for the financially stressed O&G companies' rights issues.
Without the fresh capital, these debt-laden and cash-strapped O&G companies would have already belly up during the industry downturn that lasted longer than expected.
Rig operator Velesto Energy Bhd (formerly UMW Oil & Gas Corp Bhd) is an example. Once a darling stock during the O&G boom, Velesto was badly hit by the meltdown in crude oil prices in the fourth quarter of 2014, resulting in its oil rigs lying idle.
With no charter contracts in sight, in May 2017 Velesto proposed a 14-for-five rights issue of 6.05 billion new shares at 30 sen apiece to raise RM1.8 billion to cut debt and reduce financing costs.
The cash call exercise included free warrants on the basis of one warrant for every four rights shares subscribed, exercisable at 39.5 sen with a seven-year tenure ending 2024.
Velesto's share price tanked on the news, from 69 sen apiece, it dived to below the rights price of 30 sen several times prior to the ex-date.
Now two years on, even investors who bought into the counter at double the rights price would have already broken even.
To avoid dilution, an investor who acquired 9,000 shares at 60 sen apiece or RM5,400 in total would have to fork out RM7,560 to subscribe to the full rights entitlement of 25,200 rights shares. The investor's total investment cost then was RM12,960 for 34,200 shares or roughly 38 sen per share.
Based on last Friday's closing of 38.5 sen, the block is currently valued at RM13,167 — meaning that the investor would have eked out a 1.6% gain across two years. The contrarians who snapped up shares when prices were sliding down two years ago, their gains would have been higher. For example, those bought at 50 sen, the return would have been 9.18%, meanwhile for entry price of 40 sen the return would be 18% and for 30 sen the return would be 28.3%.
To add to the bargain, the same block is attached with 6,300 free warrants which are currently trading at 14.5 sen apiece or RM913.50 in total.
Next in line among the O&G companies that have made cash call is Sapura Energy Bhd, which raised RM4 billion in August 2018. Sapura Energy's rights issue came at about a year after Velesto.
The cash call involves five-for-three rights issue of 9.99 billion new shares at 30 sen apiece, with one free warrant for every 10 rights shares subscribed. The exercise price of the derivatives is at 49 sen until it expires in 2024.
The fundraising exercise also includes a two-for-five rights issue of Islamic redeemable convertible preference shares (RCPS-i) at 41 sen each.
Likewise, Sapura Energy's share price also plunged on the cash call news.
On the high case, an investor who bought 9,000 shares at 50 sen apiece or RM5,400, would have to fork out RM4,500 to subscribe to 15,000 rights shares (or a total of RM9,000 for 24,000 shares). This is added with 3,600 RCPS-i for an additional RM1,476.
For the investor to break even on the shares portion at that entry price, the counter would need to trade at 37.5 sen, or 32 sen if the entry price was 35 sen. Sapura's 12-month target price among 16 analysts ranged between 25 sen and 50 sen, averaging at 34.5 sen.
Concurrently, the block carries 1,500 warrants which are trading at 13 sen apiece or RM195 in total.
Sapura Energy's share price has yet to join the strong rally that its peers have had so far this year.
Despite a huge order book of RM9.5 billion this year and next, Sapura Energy's shares and RCPS-i remained below their subscription prices at 28.5 sen and 30.5 sen respectively (pre-adjusted prices).
Against the backdrop of companies that were bleeding losses and recording huge impairments on unutilised assets whose values were depreciating, cash calls at that time were just unattractive given the uncertainties on the timing of recovery.
Velesto's rights were oversubscribed, although a mere 64.63% was valid for acceptance. The remainder was taken up by major shareholder Permodalan Nasional Bhd (PNB).
Over at Sapura Energy, the rights issue was undersubscribed by 18.51%, or about RM555 million. The unsubscribed portion was taken up by underwriters. However the group's RCPS-i was oversubscribed.
For the two rights issues, PNB pumped in more than RM800 million into Velesto and RM2.68 billion for Sapura.
More O&G companies are expected to make cash call to revive their financial health. Icon Offshore Bhd, in which Ekuiti Nasional Bhd holds a 42.28% stake, Perdana Petroleum Bhd and Dayang Enterprise Holdings Bhd are among those in the pipeline.
With the improved sentiment and share price rally, is the timing better for them to raise fresh capital now? The crude oil price trend will certainly play a crucial role.