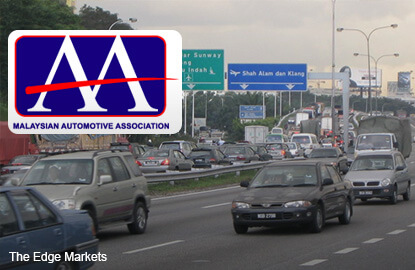 PETALING JAYA (Jan 19): It was a close call for the Malaysian automotive industry, as it managed to breach the Malaysian Automotive Association's (MAA) 2016 vehicle sales target of 580,000 units by a paltry 124 units. 
MAA president Datuk Aishah Ahmad announced during a full-year market review and media briefing today that the industry registered a total industry volume (TIV) of 580,124 units in 2016.
On a yearly basis, 2016 TIV signalled a drop of 13%, from the 666,677 units registered in 2015.
Total sales of passenger vehicles in 2016 stood at 514,545 units, down 13% from the 591,275 units sold in 2015.
Meanwhile, a total of 65,579 units of commercial vehicles were sold in 2016, also 13% lower than the 75,402 units sold in 2015.
"This is the first time the TIV fell below the 600,000 mark, after six consecutive years of sales growth. However, the latest record was in line with our revised forecast of 580,000 units," Aishah said. 
MAA initially forecast 2016 sales to reach the 650,000 mark. However, in light of the economic slowdown, it revised its target downwards in July 2016.
"Going into 2017, many analysts foresee this year to be equally challenging, due to the continuous weakening of the ringgit, as well as uncertainties arising from the post-Brexit era and U.S. President-elect Donald Trump's policies," Aishah said. 
"Nevertheless, we expect a mild recovery in new vehicle sales this year, should the economic activities in Malaysia gradually pick up," she added. 
MAA has set a sales forecast of 590,000 new vehicle units this year.