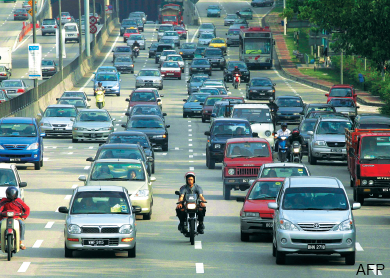 KUALA LUMPUR (Sept 15): Sales of new vehicles in August 2015 rose 4.5% to 53,452 units from 51,126 units in the previous corresponding period, driven by the passenger vehicle segment.
In a statement today, Malaysian Automotive Association (MAA) said passenger car sales rose 5.4% to 47,302 units in August 2015 from 44,898 units a year ago.
However, total vehicle sales for August 2015 was dragged down by the commercial vehicle market, which saw its numbers decrease by 1.3% to 6,150 units from 6,228 units a year ago.
On a month-on-month basis, MAA noted that sales volume in August 2015 was 8.9% lower than July 2015.
It attributed the decline in total industry volume (TIV) to uncertainties among businesses due to the weakening ringgit, overall gloomy global economic outlook and consumers remaining cautious in spending on big ticket items.
The TIV for the first eight months of the year was 434,282 units, a 2.3% drop from 444,551 units recorded in the January-August 2014 period as both the passenger and commercial vehicle segments saw a drop in numbers.
The number of new passenger cars sold during the period fell 2.2% to 386,471 units from 395,264 units a year ago, while commercial vehicle sales dropped 3% to 47,811 units from 49,287 units.
Meanwhile, August 2015 saw 49,335 vehicles produced, up 12.7% from 43,784 units in August 2014.
Of this total, production of passenger cars for August 2015 rose 12.5% to 44,812 units from 39,847 units in the previous corresponding period, while the commercial vehicle segment recorded a 14.9% increase in production to 4,523 units from 3,937 units in August 2014.
Total vehicle production for the January-August 2014 period was also up 3.7% to 417,654 units from 402,688 units a year ago. Production numbers for passenger vehicles rose 4.2% to 384,605 units from 369,047 units a year ago, while the figures for commercial vehicles were down by a marginal 1.8% to 33,049 units from 33,641 units.
On outlook for Sepetmber 2015, MAA said sales volume is expected to be maintained at August 2015 level, on ongoing promotional campaign by car companies.