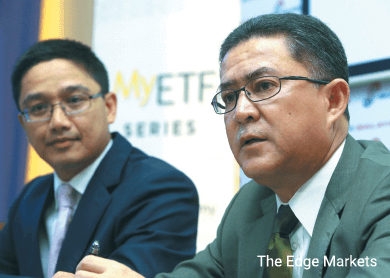 KUALA LUMPUR: Valuecap Sdn Bhd, an investment firm jointly owned by Khazanah Nasional Bhd, Kumpulan Wang Persaraan (Diperbadankan) and Permodalan Nasional Bhd is targeting to grow the size of its asset under management (AUM) to RM7.5 billion by end-2015 from RM5 billion now.
Valuecap director Wan Kamaruzaman Wan Ahmad said its two subsidiaries, VCap Asset Managers Sdn Bhd (VCap) and i-VCap Management Sdn Bhd (i-VCap), will be looking to grow their respective AUMs of some RM4 billion and RM1.1 billion, by selling existing products and offering new investment products to the market.
He said the current low interest rate environment would encourage investors who are looking for yield to buy into Valuecap's products such as its exchange traded funds (ETFs).
"Timing is a difficult issue to predict because you never know what will hit the market or how time can be a catalyst. But at this point of time, we still believe that under this low interest rate environment, dividend yield of over 4% (offered by ETFs) is very attractive. This kind of returns would attract a lot of institutional investors," Wan Kamaruzaman told reporters after the listing of i-VCap's third ETF called MyETF MSCI SEA Islamic Dividend (MyETF-MSEAD) on Bursa Malaysia yesterday.
This is an open-ended fund with an approved size of 500 million units and an initial price of RM1 per unit.
i-VCap chief executive officer Mahdzir Othman said investors' response to its newly-listed Southeast Asia syariah ETF has been "quite encouraging", with 10 million units subscribed by the public, signalling investors' willingness to invest in ETFs now.
MyETF-MSEAD opened at RM1.005 on its trading debut, a slight premium to its net asset value of 99.82 sen and the initial issue price of RM1 per unit. The fund closed at 98 sen, with 353,600 total units traded on its opening day.
i-VCap has also made plans to launch and list a second regional syariah ETF before the end of 2015, a product which Mahdzir said will help increase i-VCap's AUM by an additional 50% by the end of 2015.
"There is a growing demand for Islamic products. Within the Islamic space ... the Islamic ETF is another option for investors to put their money into," said Mahdzir.
Valuecap is also working towards the launch of a RM1 billion Environmental, Social and Governance Index Fund (ESG Fund) before the end of this year. The ESG Fund, announced in Budget 2014 and the first of its kind in Malaysia, will invest in companies that score high on Bursa Malaysia's ESG Index, which recognises companies with high socially responsible practices and good governance.
Last month, Prime Minister Datuk Seri Najib Razak announced that the ESG Fund will be launched by June and that the Securities Commission Malaysia had approved the fund.
This article first appeared in The Edge Financial Daily, on May 8, 2015.