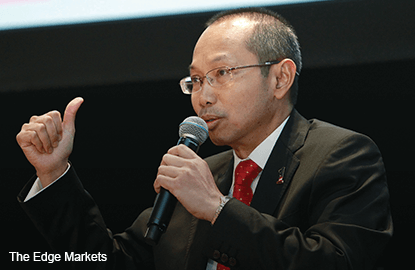 KUALA LUMPUR (Oct 26): The injection of RM20 billion into ValueCap Sdn Bhd would not be guaranteed at all by the government, says Minister in Prime Minister's Department Datuk Seri Abdul Wahid Omar.
Abdul Wahid said that the RM20 billion was not from the government and would be sourced from state equity investment firm ValueCap's three shareholders Khazanah Nasional Bhd, Kumpulan Wang Persaraan (Diperbadankan) and Permodalan Nasional Bhd.
He said the fund would invest in undervalued listed companies with good fundamental and long-term growth potentials.
The investment would be carried out in stages based on the latest share price and the right timing. This indirectly will contribute positively towards the activities of listed companies and towards the economic growth of the country in general, he added.
Subsequently, Abdul Wahid said, the injection from ValueCap's shareholders would be made in terms of bond and external funds or other forms of capital which would be considered by the condition approved by the Board.
"The fund is not aimed to help any companies, be it bumiputera or non-bumiputera. The investment is based on the philosophy of long-term but not short-term investment.
"It is based on the thorough and careful evaluation of the financial performance of the stocks," Abdul Wahid said this in a written reply to Shah Alam MP Khalid Samad on Oct 22.
Khalid Samad had asked the Prime Minister to state the source of the RM20 billion that would be used to help the Malaysian stock market and whether the ministry has made any research on whether the RM20 billion is able to improve the current stock market.
On Sept 15, PKR secretary-general and Pandan MP Rafizi Ramli had expressed concern that the RM20 billion would eventually be used to buy undervalued shares and the fund would be directed to buy shares from companies that are deemed close to Umno and Barisan Nasional for the purpose of making short-term profits for those with vested interests.
Abdul Wahid added that ValueCap would invest in companies with strong balance sheet, stable cash flow and good governance.
In addition, companies that declare good dividends and defensive stocks would be picked, such as Malayan Banking Bhd (Maybank), United Plantation Bhd and Real Estates Investment Trusts (REITs) which declare dividend yield of more than 5% a year.
He added that ValueCap had recorded a stellar performance with a return of equity investment of more than 16.3% a year between 2003 and 2013.
As at end-2014, ValueCap has an accumulative profit of RM8.5 billion, of which a total of RM8.4 billion was allocated back to the shareholders in the form of dividends.
ValueCap was established in 2002 and Prime Minister Datuk Seri Najib Razak had announced on Sept 14 this year the injection into the fund and believed it would shore up the stock market, which had taken a beating from negative news flow, such as political uncertainties and state investment fund 1Malaysia Development Bhd (1MDB).
(Note: The Edge Research's fundamental score reflects a company's profitability and balance sheet strength, calculated based on historical numbers. The valuation score determines if a stock is attractively valued or not, also based on historical numbers. A score of 3 suggests strong fundamentals and attractive valuations.)