This article first appeared in The Edge Malaysia Weekly, on September 24, 2018 - September 30, 2018.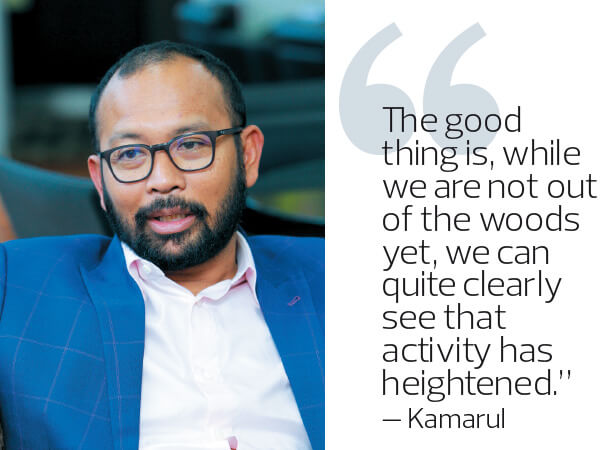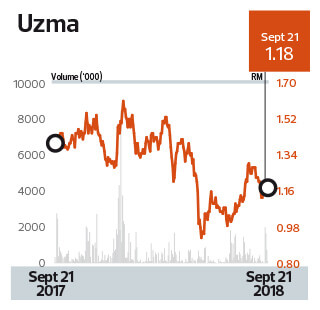 OVER the past year, oil prices have risen almost 40% and are currently at the US$70 per barrel band, way above lows of US$26 per barrel seen in February 2016.
These gains have heightened interest in the oil and gas sector, resulting in many counters involved in the industry coming to life.
One such counter is Uzma Bhd, an international oil and gas service company serving the upstream (exploration, development and production) as well as the downstream facilities/plant construction, operations and maintenance sector.
Since end-May, Uzma's share price has gained more than 25%. It closed at RM1.18 last Friday, giving the company a market capitalisation of RM377.6 million.
Uzma managing director/CEO Datuk Kamarul Redzuan Muhamed says, "This is probably the most difficult and longest downturn. But the good thing is, while we are not out of the woods yet, we can quite clearly see that activity has heightened. There are a lot of requests for new jobs, tenders and all that."
Uzma, he says, is participating in 288 tenders, worth in excess of RM5 billion, consisting of work order proposals and market surveys, compared with only about  100 tenders and work orders earlier in the year.
"We have not seen this sort of activity in a long time. Activity has really spiked over the last three or four months. We believe business is cyclical and it's only a matter of time [before oil prices pick up] ... it's a question of timing," he says in an exclusive interview with The Edge.
In a report earlier this month, Kenanga Investment Bank says improved oil prices could spur increased production from oil fields, thus benefiting Uzma with its expertise in oil well intervention.
Kenanga has an "outperform" call on Uzma and a target price of RM1.65, which is a 39.83% premium to its closing price last Friday.
The research outfit says, "Our 'outperform' call is premised on Uzma currently trading at attractive valuations of merely 0.7 times forward price-to-book value, which is grossly discounted compared with its five-year average of 1.7 times, despite the improved oil price environment."
While the company is toying with the idea of venturing into renewable energy (a decision will be made by year end), its focus is still on oil and gas.
Kamarul also says Uzma incurred a capital expenditure of RM40 million in the first half of the year, up from RM15 million last year.
Many oil and gas pundits are expecting prices to pick up by the first quarter of next year. Kamarul thinks so too.
"If you look at reports from IHS Markit, it's obvious — it's going to be higher … how much higher? I do not know, but most [people] are talking about US$55 to US$75 [per barrel] and max US$80 [per barrel] … The sentiment is there, the recovery is there. The ILCT (Integrated Logistics Control Tower) awards and the MCM (maintenance, construction and modification) awards [by national oil company Petroliam Nasional Bhd or Petronas] are all indicative of confidence coming back," he says.
Uzma currently has an order book of about RM1.8 billion and a tender book of about RM5 billion.
On Uzma's hit rate, Kamarul says the company has a 72% success rate in some areas and in other businesses, such as chemical production, it is already the market leader with a 53% share.
"So, how much more can we grow it?" Kamarul asks.
It is interesting to note that Uzma is giving up low-margin endeavours and focusing on high-value high-technology businesses, which yield higher margins.
"If you look at our top-line numbers, they have gone down partly because we are getting out of the low-margin business. In 2014, 42% of our income was from this business. Now, we are down to less than 10%," says Kamarul.
Uzma changed its financial year end from December to June in November last year. So, for the three months ended June 30, the company chalked up RM4.82 million in net profit on revenue of RM82.48 million. For the three months ended March 31, Uzma suffered a net loss of RM100,000 from RM91.93 million in revenue.
For the 18 months ended June, Uzma managed to register RM28.72 million in net profit from RM550.12 million in sales.
As at end-June, Uzma had cash and bank balances of RM34.83 million and fixed deposits with licensed banks amounting to RM25.21 million. Its long-term and short-term debts totalled RM267.12 million and RM94.24 million respectively.
"We are ready for this improvement in the market. It is reflected in the numbers in the last few quarters," Kamarul says.
Kenanga has forecast net profit of RM33.9 million for Uzma for FY2019 ending June 2019, from RM439 million in turnover.
Save by subscribing to us for your print and/or digital copy.
P/S: The Edge is also available on Apple's AppStore and Androids' Google Play.