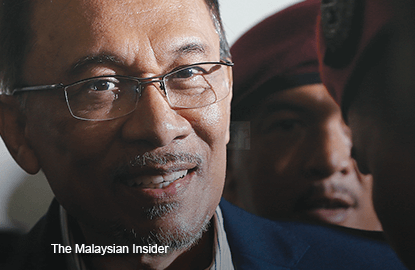 (Oct 19): The High Court today awarded Datuk Seri Anwar Ibrahim RM200,000 in damages after the publisher of an Umno linked daily was found liable of defaming the former opposition leader three years ago.
Judge Hue Siew Kheng awarded Anwar RM100,000 in general damages and another RM100,000 in aggravated damages.
She also ordered Utusan Melayu (Malaysia) Bhd to pay RM8,000 in costs.
The suit pertained to two newspaper articles on his comments on homosexuality laws in an interview with broadcaster BBC.
Hue said in a defamation suit, damages were awarded for injury to reputation and feelings.
She said Utusan did not offer an apology to Anwar when a letter of demand was served before the suit was filed.
"The plaintiff (Anwar) had a high standing in society, both locally and abroad," she added.
She said the court awarded RM100,000 in aggravated damages because there was malice on the part of Utusan in publishing the articles.
Anwar filed the suit on January 2012, seeking RM50 million in damages and an injunction to stop Utusan from repeating statements accusing him of being a gay rights proponent.
Also named as defendant was its group editor-in-chief Datuk Abdul Aziz Ishak.
In January 2013, then High Court judge Datuk V.T. Singham found Utusan Malaysia liable for defaming Anwar in the two articles.
The trial judge said the newspaper had "distorted" the opposition leader's words to suggest he backed the lesbian, gay, bisexual and transgender (LGBT) movement.
Singham also said the Umno-owned daily did not practise responsible journalism, in addition to disregarding a golden opportunity to correct itself after Anwar sent a legal notice asking for clarification.
"The articles... are a rather distorted and incorrect version, and obviously taken out of context," Singham said in his judgment.
"The articles have a purpose of its own... to give rise to a defamatory imputation that the plaintiff is condoning LGBT activities to be legalised, which is not true under the circumstances."
The judge said it was "crystal clear" that Anwar did not say that LGBT activities should be legalised in his BBC interview, and the Utusan articles had suggested that Anwar was unfit to hold public office and be the opposition leader.
During trial, Anwar told the court it was public knowledge that Utusan Malaysia was Umno-owned and that it took orders from the party president.
He also agreed that homosexuals should be discriminated to protect the sanctity of marriage, but pointed out that archaic laws should be reviewed to prevent innocent people from being punished.
The Court of Appeal subsequently dismissed Utusan's appeal against Singham's decision.
Singham, who has since retired, ordered the defendants to pay RM45,000 in costs to Anwar but said a court registrar had to assess the damages. – The Malaysian Insider