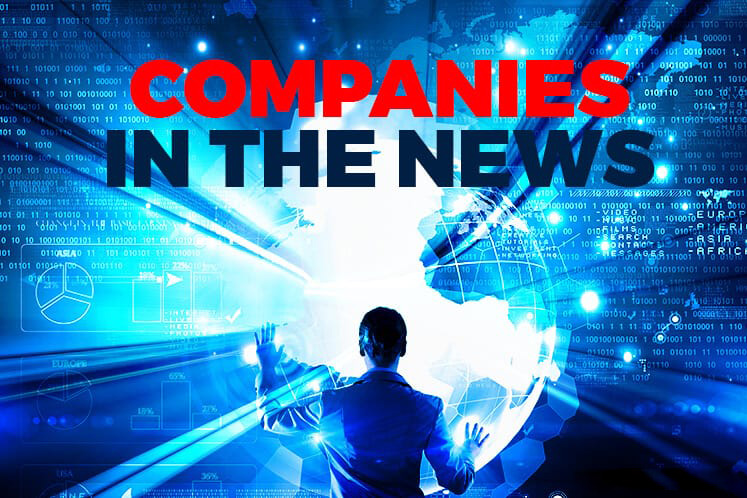 KUALA LUMPUR (May 15): Based on corporate announcements and news flow today, companies in focus on Wednesday (May 16) may include the following: Utusan Melayu (Malaysia) Bhd, Media Prima Bhd, Hartalega Holdings Bhd, Matrix Concepts Holdings Bhd, Enra Group Bhd, Star Media Group Bhd, Tenaga Nasional Bhd, Cahya Mata Sarawak Bhd, Southern Steel Bhd and KKB Engineering Bhd.
Four independent and non-executive directors of Utusan Melayu (Malaysia) Bhd have resigned as part of an "overall restructuring plan". The Umno-controlled media group said the directors resigned between May 12 and 15.
The four directors who voluntarily resigned were the group's chairman Tan Sri Mohamad Fatmi Che Salleh, Datuk Seri Tengku Sariffuddin Tengku Ahmad (press secretary to former Prime Minister Datuk Seri Najib Razak), Jamalul Kiram Mohd Zakaria and Mohd Yusof Abu Othman.
Media Prima Bhd's group managing editor for news and current affairs for its Media Prima Television Networks (MPTN), Datuk Seri Ashraf Abdullah, will step down effective May 20.
Media Prima said Ashraf's deputy, Datuk Manja Ismail, will assume the duties left vacant by him.
Hartalega Holdings Bhd saw its net profit jump 30.7% to RM116.8 million in the fourth quarter ended March 31, 2018, from RM89.4 million a year earlier. Earnings per share rose to 3.53 sen from 2.72 sen previously.
Quarterly revenue rose 17% to RM616.84 million from RM527 million.
For the full year, Hartalega reported a net profit of RM440.1 million or 13.29 sen per share, up 55.4% from RM283.3 million or 8.62 sen per share in the previous year. Revenue increased 33.33% to RM2.4 billion from RM1.82 billion.
Matrix Concepts Holdings Bhd is teaming up with an Indonesian consortium to jointly develop an Islamic financial district in Pantai Indah Kapuk 2, Jakarta, which will mark its first step to establish its presence in Indonesia.
It has entered into a Memorandum of Understanding with PT Bangun Kosambi Sukses and PT Nikko Sekuritas Indonesia for the joint development dubbed PIK 2 Sedayu Indo City.
It said PIK 2 Sedayu Indo City will encompass 1,000ha of land complete with residential houses, apartments, shopping centres, a light rail transit system, and a stadium.
Enra Group Bhd has disposed of its 70% stake in property development firm Landmark Zone Sdn Bhd (LZSB) for RM5.6 million.
"The divestment plan will enable Enra to monetise its investment in LZSB and provide the company with funds to reinvest in other more earnings accretive opportunities and to meet working capital requirements," the group said.
Star Media Group Bhd will only look into a voluntary separation scheme (VSS) as a last option to its cost-cutting measures as the MCA-controlled media group intends to continue its cost reduction efforts seen last year, said its chairman Datuk Fu Ah Kiow.
"There is a series of cost cutting measures being implemented. Some of the measures include printing plant operation — initiate some management changes that will help to cut down the costs," Fu added.
On Star's future revenue growth, Fu said focus will be on the digital space, which is Star Online, and the group will revamp its content and improve it, and grow the revenue of its digital assets.
Tenaga Nasional Bhd is expecting the reserve generation margin to stay sustainable at 30%, going forward.
"There will be new plants, with additional capacity and demand over time; and also over time, there will be existing older capacity that will be expired, [which is expected to offset the additional capacity]," said TNB's chief financial officer Fazlur Rahman
Hence, Fazlur said the reserve margin will be around a sustainable level.
Cahya Mata Sarawak Bhd's net profit for the first quarter ended March 31, 2018 surged 50.7% to RM38.98 million, from RM25.86 million a year ago.
The group said the improvement in earnings was largely due to a turnaround in its 25% associate OM Materials (Sarawak) Sdn Bhd, which operates a ferrosilicon and manganese alloy smelting plant in the Samalaju Industrial Park in Sarawak.
Revenue also increased by 15.4% to RM354.99 million and was mainly attributable to its construction and road maintenance, construction materials and cement divisions.
Southern Steel Bhd's net profit grew 63.99% to RM52.27 million or 12.07 sen per share for the third quarter ended March 31, 2018, from RM31.87 million or 7.54 sen per share a year earlier, due to higher sales volume.
Quarterly revenue stood at RM953.37 million, 43.17% higher compared with RM665.91 million previously.
The group declared an interim single-tier dividend of 3.5 sen per share, payable on June 13.
For its cumulative nine months of FY18, net profit doubled to RM175.64 million or 40.67 sen per share from RM87.73 million or 20.82 sen per share a year ago, on the back of higher sales volume with improved margins.
Revenue was up 41.67% to RM2.81 billion from RM1.98 billion previously.
KKB Engineering Bhd's unit has accepted a letter of award for a sub-contract for a project in Sarawak, the amount for which was not disclosed.
Its subsidiary OceanMight Sdn Bhd signed an LoA from Sapura Fabrication Sdn Bhd (SFSB) for the provision of procurement and construction for wellhead deck, piles and conductors.
Meanwhile, KKB Engineering Bhd posted a net profit of RM1.34 million in the first quarter ended March 31, 2018, compared with a loss of RM1.47 million a year ago.
Quarterly revenue soared 50.4% to RM64.55 million from RM42.92 million previously, on higher revenue from its steel pipes and LPG cylinders manufacturing divisions and civil construction segment.