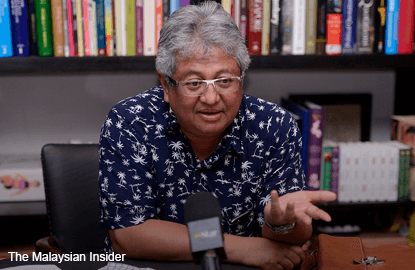 KUALA LUMPUR (Feb 5): The use of statutory declarations to remove a political leader is unreliable, unsafe and completely disregards the democratic wishes of the people, Datuk Zaid Ibrahim said today.
The former minister, writing on his blog, also criticised Datuk Seri Najib Razak for showing contempt for the wishes of the people of Kedah and Umno members, through the way in which Datuk Seri Mukhriz Mahathir was removed as menteri besar.
"Using statutory declarations to remove an elected leader is not practised anywhere in modern democracies.
"Signing some statutory declaration in the dark of night is the way of the coward," Zaid wrote.
He said the idea that Mukhriz had been given a mandate by the people was of no concern to Najib and his warlords, adding that Kedahans had been told three days before the 2013 general election that Mukhriz would be menteri besar if the party won, which it did.
He also said the days in which a motion of no confidence in the state assembly was the preferred constitutional route to remove an incumbent menteri besar were over.
"This is not something practised under Najib's 'enlightened' administration.
"Instead, what's in vogue are deals behind closed doors followed by hurriedly organised press conferences and bundles of statutory declarations being passed around.
"Thanks to the new constitutional principle introduced by Najib in the Perak case of 2009 – which ultimately found enthusiastic support among the top judges – the menteri besar can now be removed by the prime minister, via the monarch, using means other than an open vote in the assembly to determine if the menteri besar enjoys majority support," Zaid wrote.
He added that the Kedah Regency Council should be congratulated for doing the hard work of ascertaining whether Mukhriz had majority support by conducting personal interviews with all members of the assembly, including those from the opposition.
But he said from now on, the rulers should direct that the removal of any menteri besar be done by way of a motion of confidence to be debated in the assembly.
Zaid said this was more effective in ascertaining the amount of support that any leader had, if the provisions of the constitution were followed.
"That's what the laws of the state are for. Just because the use of statutory declarations [is] a convenient tool for Najib, it does not mean its use is convenient to the Malay rulers.
"The motion of confidence is what the Malay rulers should insist on, unless they want to spend sleepless nights reading statutory declarations," he said.