This article first appeared in The Edge Financial Daily, on July 11, 2018.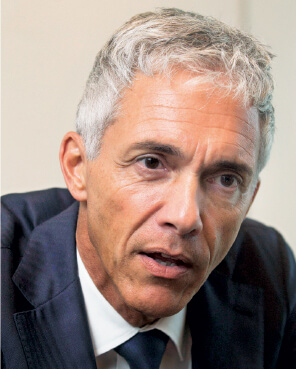 Lauber: We made direct contact to the AG of Malaysia in order to make a clear statement that we are still interested in coordinating with Malaysia. Photo by Patrick Goh
PUTRAJAYA: Some US$7 billion (RM28.15 billion) in funds originating from 1Malaysia Development Bhd (1MDB) has circulated in the global financial system, said Switzerland Attorney-General (AG) Michael Lauber.
Speaking to the press at a media session here yesterday, Lauber, who was in Malaysia with his delegation from Monday to yesterday, clarified that the Swiss government had frozen some 400 million Swiss francs (RM1.62 billion) allegedly connected to the troubled state fund, in Switzerland.
Lauber's visit followed direct communication established with Malaysia's AG Tommy Thomas last week. He had also met Thomas on Monday, he said, mainly to establish formal cooperation with his Malaysian counterpart.
"For us it is important to act quickly after the latest development in Malaysia," said Lauber. "We made direct contact with the AG of Malaysia in order to make a clear statement that we are still interested in coordinating with Malaysia.
"That means setting up priorities, exchanging the latest updates on the investigation, and also to exchange views about different legal systems," he said.
He expressed confidence that mutual cooperation will be established soon — but emphasised that "now it is not yet there". "I am here today (yesterday) and yesterday (Monday) with my delegation to emphasise the will for cooperation, and to just decide how concretely we plan the next steps.
"It is of crucial importance that this high-profile case, it is very clear that we understand what does it mean and [the] different systems might have impact on [achieving] a concrete legal proceeding," he said.
With several countries probing 1MDB, Lauber said that it is important "to sit together and coordinate who does what, and who is best suited to do what, because there are different systems involved".
"My operational team is also here to discuss where we are [in the progress of the probes]," he said, adding that it is too early to concretely establish how much progress has been made.
Asked about the request to the Malaysian AG for mutual legal assistance (MLA) — authorisation to allow formal cross-border investigative coordination — Lauber said: "I have no doubt that my colleague and his office are full of will, and have also the capacity to cooperate with Switzerland and also with the other countries who are very much interested to cooperate with Malaysia."
Meanwhile, the Swiss AG also confirmed that he had a short meeting with Finance Minister Lim Guan Eng yesterday. "I was mainly [there to] explain that today it is time to start coordination and cooperation, and after this is completed, it will be time to talk about restitution [of 1MDB funds to the Malaysian government]," he said.
Lauber clarified that the Swiss government indeed intends to return 1MDB assets to Malaysia, including "most of" the 400 million Swiss francs currently frozen if it indeed belongs to the troubled state fund. He said, "most of", because a portion of the money may not come from 1MDB but allegedly originated from the United Arab Emirates (UAE).
"I have to say that Switzerland had never in the past and also in this case ever enriched itself by keeping illicit or stolen assets," stressed Lauber. "I think it is important to emphasise that at this stage, we have to first finalise the criminal investigations and also, for example, initiate the exchange of information with Malaysia.
"Only then, as a second step we are, by legal obligation, able to restitute the money," he said.
However, the Swiss AG was unable to provide details on the assets seized by the Swiss government.
Overall, Lauber is expecting the investigation and proceedings to spread out over the course of a few years. "In [Swiss] legislation, we organise and manage the investigation.
"But people and institutions involved can also influence [the length] of the investigation. So I would say, for sure it is not weeks or months — realistically it will take some years.
"When you take the complexity of this high-profile case — we only started in 2015 — and [after taking into account] very difficult, very specific problems faced by the jurisdiction, I would say it is not a very long investigation.
"Even if it takes several years, it's the average," he said.
Najib, Jho Low not under Swiss investigation
On the personalities involved, Lauber clarified that former prime minister and 1MDB chairman Datuk Seri Najib Razak is still not in the scope of the investigation by the Swiss government. The 1MDB scandal's alleged mastermind and now fugitive Low Taek Jho, or also known as Jho Low, is also not being pursued by the Swiss government, added the Swiss AG.
"We do what is mainly important to maintain the integrity of the Swiss financial system, and we [go] against people doing wrong things [against] Swiss nationals or with direct link to the Swiss system," Lauber said.
His office has initiated proceedings against six individuals — comprising two former 1MDB officials, two officials in PetroSaudi and two individuals from the UAE in charge of Abu Dhabi sovereign funds. Also being implicated in criminal proceedings by the office were two banks, BSI SA and Falcon Private Bank SA, Lauber added.
On the other hand, he clarified that up to now, his team has not made any official contact with 1MDB despite the fund saying previously it was ready to cooperate with foreign investigators in the ongoing probes.
He added that the Swiss AG's office is also not seeking to do so presently. "We are at the moment, and in the past, mainly interested in cooperating with the AG's office when it comes to Malaysia," he said. "If necessary and if further developments in our investigation show that it is necessary to also cooperate with actual 1MDB officials, that is a different story," he said.
According to a statement by the Swiss AG's office yesterday, the main emphasis of the discussions during the visit was on the need to affirm a mutual commitment to the rule of law and the resumption of MLA between the two jurisdictions.
The Swiss government is currently investigating the utilisation of funds in 1MDB and its former subsidiary SRC International Sdn Bhd which were initially earmarked for economic development and investments.
"All or part of the financing obtained is alleged to have been used for other purposes, most particularly for the personal enrichment of the persons involved," the statement said.
Bloomberg reported that Lauber termed 1MDB as sort of a Ponzi scheme, saying the firm "was used for bribery of foreign officials, it was used for paying interest, it was used for motivating new officials to run against the legal requirements or it was just simply to reward them".