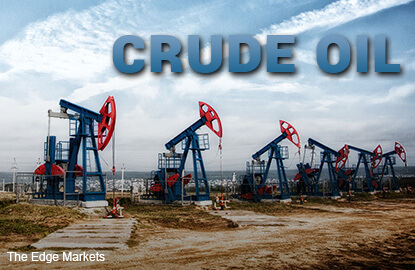 SINGAPORE (Feb 28): U.S. crude oil edged higher for a second day on Tuesday, underpinned by high compliance with OPEC's production cuts, even as the market remains anchored by rising U.S. production.
West Texas Intermediate crude oil added 11 cents or 0.2% to US$54.16 a barrel by 0154 GMT, while benchmark Brent crude oil added 18 cents or 0.3% to US$56.11 a barrel.
OPEC has so far surprised the market by showing record compliance with oil-output curbs and could improve further in coming months as the biggest laggards — the United Arab Emirates and Iraq — pledge to catch up quickly with their targets.
"With the prospect of OPEC extending the current cuts even longer, we would expect to see prices continue to push higher from here," ANZ said in a note.
Under the deal, the Organization of the Petroleum Exporting Countries agreed to curb output by about 1.2 million barrels per day (bpd) from Jan 1, the first cut in eight years. Russia and 10 other non-OPEC producers agreed to cut around half as much.
A Reuters survey of OPEC production later this week will show compliance for February.
Passive investment funds are poised to shift an estimated US$2 billion from far-term to near-term crude futures over the next week, anticipating an energy market rally as the OPEC output cut slashes supply.
At the same time rising U.S. oil production continues to limit gains.
U.S. producers boosted crude production to over 9 million bpd during the week ended Feb 17 for the first time since April 2016, as energy firms search for more oil, according to federal data.
U.S. drillers added five oil rigs in the week to Feb 24, bringing the total count up to 602, the most since October 2015, energy services firm Baker Hughes Inc said on Friday.
A bearish target at US$53.37 per barrel has been aborted for U.S. oil, as it seems to have stabilized around a support at US$53.99, said Wang Tao, Reuters market analyst for commodities and energy technicals.
Brent oil looks neutral in a range of US$55.93-US$57.26 per barrel, and an escape could suggest a direction.