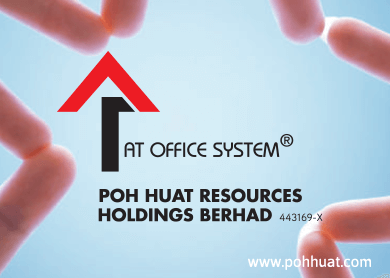 Poh Huat Resources Holdings Bhd
(June 17, RM2.07) 
Maintain buy with an unchanged target price of RM2.62: Poh Huat will release its second quarter of financial year 2015 (2QFY15) results by end-June. We expect 2Q net profit to come in within the range of RM3 million to RM5 million. This would bring the first half (1H) of FY15 net profit to between RM11.2 million and RM13.2 million, representing 33.4% to 40% of our full-year estimate.
On a year-on-year basis, we expect the 1HFY15 earnings to jump strongly by 14.7% to 37.3%, supported by better margins, improved operational efficiency, and more favourable operating environment. However, on a sequential basis, we forecast 2QFY15 net profit to drop between 38.9% to 63.3% due to seasonality, as Poh Huat's sales of furniture are generally lowest in 2Q but stronger in 2H as demand will pick up before the year-end.
Being a furniture maker with close to two-thirds of the group's revenue generated from the US market, some key leading indicators in the United States such as the US Consumer Confidence Index, US Housing Starts, and US Unemployment Rate are considered to be the bellwether to gauge the outlook for the group.
Since we initiated our coverage on the stock at the end of January 2015, these indicators continue to show more positive signs, with the US Housing Starts pointing to a multi-year high since December 2007. These are expected to bode well for the group's profitability in the foreseeable future.
Besides, the National Association of Home Builders/ Wells Fargo Housing Market Index released on June 15 rose five points from last month's reading to 59, and hit the highest reading since September 2014.
Furthermore, having the majority of sales denominated in foreign currencies, mainly US dollars, we expect the strengthening of the US dollar against the ringgit to boost the group's bottom line. 
Since the beginning of FY15 (November 2014), the RM/US foreign exchange (forex) rate has risen from about RM3.25 per US dollar to approximately RM3.75 per US dollar currently, with a financial year to date average of RM3.57 per US dollar. 
This represents an appreciation of about 9.5% in RM/US forex rate compared with the average rate of RM3.26 per US dollar recorded in the corresponding period a year ago. We will review our forex rate assumptions of RM3.50 per US dollar in our earnings forecasts for FY15 and FY16 in our 2QFY15 results note. No change to our FY15 to FY17 earnings forecasts. — TA Securities, June 17
This article first appeared in The Edge Financial Daily, on June 18, 2015.