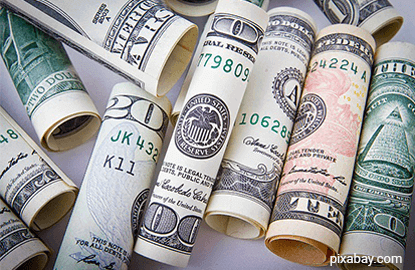 LONDON (Jan 24): The US dollar wallowed near its lowest levels since early December on Tuesday, kept under pressure by concern that US President Donald Trump was focusing more on protectionism and less on pro-growth economic policies.
Sterling declined the most among major currencies, slipping 0.7% after Britain's Supreme Court ruled that the government would need approval from Britain's parliament before formally triggering the country's departure from the European Union.
The US dollar had soared over 6% to 14-year highs in the eight weeks following Trump's surprise election victory in November. Investors were betting his promised infrastructure spending and tax cuts would boost growth and inflation, leading the Federal Reserve to raise interest rates faster, strengthening the US dollar.
But Trump's first news conference since winning the election and his "America First" inaugural speech offered scant detail on his planned stimulus and fuelled concerns that Trump's protectionism would harm the US economy.
The fading of the so-called "Trumpflation trade" has driven a 3.5% decline in the US dollar against a basket of major currencies in the past three weeks.
The euro, which had looked as if it was heading toward parity with the US dollar at the end of 2016, has rebounded above US$1.07 and hit seven-week highs of US$1.0774 in early Asian trading, though by 1220 GMT it was 0.2% down on the day at US$1.0745.
Trump formally withdrew the United States from the Pacific Rim Trans-Pacific Partnership on Monday, distancing the United States from its Asian allies.
"There's a lot of negative news and not really pro-growth positive news. So markets are just pricing out this Trump trade a little bit, and that hurts the US dollar," said UBS's global head of currency strategy, Constantin Bolz, in Zurich.
"If his rhetoric continues as it has done over the last few days and weeks, the US dollar could easily lose another few percent."
Lower US Treasury yields also undermined the US dollar. The benchmark 10-year yield on Monday posted its biggest one-day drop in more than two weeks as concern about Trump's tough stance on trade spurred safe-haven demand for bonds.
Against the traditionally safe-haven yen, the US dollar climbed half a percent to 113.355, having notched a low of 112.52 earlier in the session, its weakest since Nov. 30, and well below its overnight high of 114.45.
Trump's nominee for Treasury Secretary Steven Mnuchin was quoted by Bloomberg on Monday as saying that an excessively strong US dollar was negative in the short term, which the greenback hardly reacted to.
"Initially, the market was reacting quite strongly to comments from the Trump administration about the US dollar's strength, but now people are waiting for him (Trump) to act on his words," said BNP Paribas currency strategist Clara Leonard, in London.