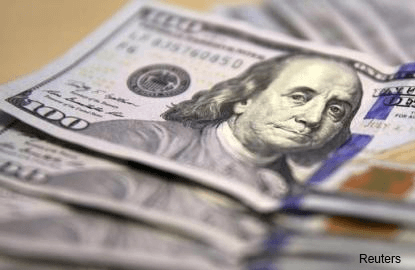 LONDON (Feb 6): The US dollar steadied on Monday after poor wages data pushed back any speculation of a near-term rise in Federal Reserve interest rates and sealed the currency's fourth straight weekly fall, its worst start to a year in more than three decades.
In a quiet start to the week, the Aussie dollar was the biggest mover among the G10 group of major currencies, down almost half a percent after a weaker batch of retail sales numbers.
The euro was also a third of a percent weaker, retreating to US$1.0746 compared with last week's seven-week highs above US$1.08.
Equity markets, and the overall strength of US economic data, continue to back the bullish US dollar calls that dominated at the end of last year.
But lack of detail on expected pro-dollar tax and spending initiatives combined with concern over the Trump White House's attitude to the US dollar and global trade and security has kept the currency retreating.
"I'd like to hope that we naturally go back to buying the (US) dollar, that seems the logical argument underneath it all," said Richard Benson, co-head of portfolio management with currency fund Millennium Global in London.
"At some point, equities in the US should drag yields higher. The market is really just looking for another story."
Signs of more inflation and better growth in Europe have also helped cool any further selling of the euro, although against that there are the worries of populist challenges in a series of elections later this year.
France's far-right leader Marine Le Pen began her bid to be elected president in May on Sunday, promising she alone could protect the French against Islamic fundamentalism and globalisation.
German industrial orders saw the biggest monthly increase in around 2 1/2 years in December, data on Monday showed.
Speculators trimmed their bullish US dollar bets for a fourth straight week through Jan 31, with net long positions falling to their lowest since late October, according to data from the Commodity Futures Trading Commission released on Friday and calculations by Reuters.
"Dollar bulls are bailing out almost as fast as bond bears," Societe Generale strategist Kit Juckes wrote in a morning note. "Another choppy week in prospect for G10 currencies overall."