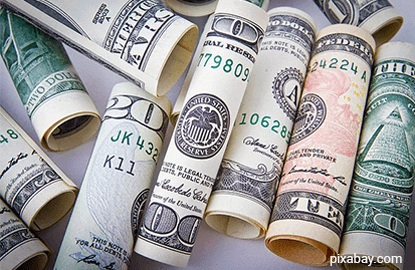 TOKYO (Feb 16): The US dollar pulled back on Thursday after rising to one-month highs in the wake of upbeat US economic data, with demand for the greenback cooling as Treasury yields came off their peaks.
Better-than-expected US inflation and retail sales data had backed expectations of an early rate hike by the Federal Reserve, sending the dollar index to 101.76 on Wednesday, a peak unseen since Jan 12. It has since retreated to 100.92 in the Asia session on Thursday.
The US dollar also came off from a 2½-week high of 114.95 marked on Wednesday against the yen, touching a low of 113.73. It was last down 0.3% at 113.84 yen.
"The dollar is struggling as US Treasury yields retreated from highs," said Junya Tanase, chief currency strategist at JPMorgan Chase Bank in Tokyo.
US benchmark 10-year Treasury note yields slipped to 2.484% on Thursday, after climbing to a three-week high of 2.524% on Wednesday following the upbeat US data.
Data on Wednesday showed US consumer prices recorded their biggest gain in nearly four years, jumping 0.6% in January. Retail sales also outpaced expectations, increasing 0.4% last month compared to the analysts' poll of 0.1%.
But some analysts also noted that the data may not be as strong as it appears, while industrial output and a gauge on home builder sentiment took unexpected spills.
"Retail sales seemed to have been boosted by higher prices rather than an increase in the real consumption," said Shin Kadota, senior forex strategist at Barclays.
"Investors also took profit as the dollar was trading high this week," added Kadota.
Up until Tuesday, the dollar index had enjoyed a 10-session winning streak.
Fed Chair Janet Yellen offered no additional insight on the timing of the central bank's next rate hike in her second day of economic testimony before Congress on Wednesday.
On Tuesday, Yellen hinted more rate hikes were on the way as the jobs market has improved and inflation has shown signs of nearing the Fed's 2% goal.
Markets will get another chance to check the US economic pulse from another batch of data, including housing starts, building permits and the Business Outlook Survey by Reserve Bank of Philadelphia.
The euro edged up 0.15% at US$1.0614, recovering from a five-week trough of US$1.052 touched on Wednesday.
Elsewhere, the Australian dollar hovered near a three-month high following a slightly better-than-expected reading in the country's January employment data.
The Australian dollar last traded at US$0.7709 after touching US$0.7732, its highest since Nov 10.
Sterling last stood at US$1.2460, edging up from a one-week trough of US$1.2384 touched on Wednesday, knocked by slowing wage growth in the fourth quarter — bad news for British consumers facing a surge in inflation in the months ahead.