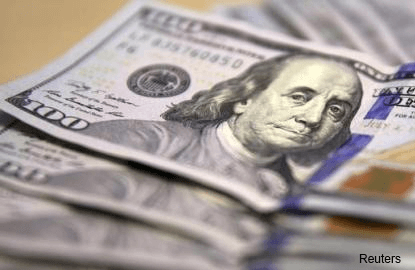 TOKYO (Feb 14): The US dollar edged away from three-week highs against a basket of currencies on Tuesday as investors awaited congressional testimony by Federal Reserve Chair Janet Yellen for clues to the pace of the central bank's interest rate increases.
The dollar index was down 0.1% on the day at 100.88, edging away from Monday's high of 101.11, which was its loftiest peak since Jan 20.
The US dollar was down 0.2% at 113.48 yen, below Monday's high of 114.17 but well above a 10-week low of 111.59 yen touched a week ago.
Yellen will present the US central bank's semi-annual report on monetary policy and the economy in testimony to the Senate Banking Committee on Tuesday, followed by a the semi-annual monetary testimony before the House Financial Committee on Wednesday.
"People are just waiting for Yellen's testimony, and depending on what she says, the (US) dollar could test the upside again," said Kaneo Ogino, director at foreign exchange research firm Global-info Co in Tokyo.
"But a few Japanese exporters are selling (US) dollars at the moment, disappointed that it didn't go even higher after the weekend meeting" of US President Donald Trump and Japanese Prime Minister Shinzo Abe, who apparently did not discuss currency policy or trade protectionism, Ogino said.
Abe said on Tuesday he agreed with Trump that currency issues should be left for the finance leaders of each country to discuss.
Dallas Federal Reserve Bank President Robert Kaplan, a voter this year on the Fed's policy-setting panel, said on Monday in remarks prepared for posting to the Dallas Fed website that the US central bank should act soon to raise rates or risk having to abandon its plan to do so slowly.
"Yellen does not need to say anything in detail. I think she'll be very cautious, so currencies might not move so much," said Masashi Murata, senior strategist at Brown Brothers Harriman.
"She might suggest some possibility of the Fed hiking rates in March, but I think that risk is very small," he added.
Interest rates futures showed investors pricing in only about a 1 in 5 chance the Fed will increase rates at its meeting next month, according to CME Group's FedWatch program.
The US dollar also got a lift from Trump's promise last week of a "phenomenal" tax plan that the White House said would include tax cuts for businesses and individuals. The hopes raised by his comments helped lift US stocks to record highs on Monday.
The euro, which has come under pressure in recent sessions as France's election campaign has heated up, was up 0.1% at US$1.0606.
French presidential frontrunner Emmanuel Macron is being targeted by Russian media and internet attacks from within Russia with the goal of helping the election campaigns of his pro-Moscow rivals, his party chief said on Monday.
Ferrand, who said Moscow looked favourably on the policies of far-right leader Marine Le Pen and centre-right candidate Francois Fillon, urged the government to take steps to ensure there was no "foreign meddling" in the election.