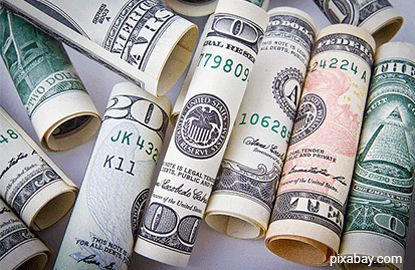 TOKYO (Jan 20): The US dollar lost momentum on Friday as US Federal Reserve Chair Janet Yellen spoke of a gradual pace of rate hikes and sounded less hawkish than some had expected, while investors braced for US President-elect Donald Trump to be sworn in.
The dollar index, which tracks the greenback against six major currencies, fell 0.2% to 100.97. It was on track to shed 0.2% for the week.
The US dollar came off peaks after Fed Chair Yellen spoke at the Stanford Institute for Economic Policy Research in early Asian trading hours.
Yellen noted the US central bank should continue to raise interest rates slowly to keep inflation low and jobs plentiful and avoid harming the recovery the Fed has sought to nurture.
"Yellen did not particularly talk about speeding up the pace of rate hikes, which may have sounded as less hawkish for some," said FPG Securities President Koji Fukaya.
The dollar index had hit a high of 101.73 on Thursday on upbeat US job and housing data, with homebuilding rebounding sharply in December as a firming economy boosted demand for rental housing. The number of Americans filing for unemployment benefits also dropped unexpectedly to near the lowest levels in decades.
Investors are now awaiting the inauguration of Trump later on Friday for catalysts.
"The US dollar could fall if Trump pushes forward his protectionist rhetoric in his inauguration speech," said Minori Uchida, chief FX analyst at Bank of Tokyo Mitsubishi UFJ.
"Some investors also expect more details on his policies, so the US dollar could also slip if Trump does not mention any specifics."
The US dollar was last down 0.1% against the yen at 114.75 yen, on track for a weekly gain of 0.2%. The greenback retreated from a one-week high of 115.63 yen marked on Thursday, helped by the strong US data and resulting rise in Treasury yields.
The 10-year US Treasury yield spiked to a high of 2.496% on Thursday, but came off a touch after Yellen's speech. It last stood at 2.461%.
The euro gained 0.2% at $1.0679, adding to the rebound on the previous day after the announcement from the European Central Bank. It was up 0.3% for the week.
The ECB announced it would maintain its negative interest rate policy and continue its record pace of asset purchases to stimulate growth.
The euro had briefly dropped during a media conference with ECB chief Mario Draghi, who pointed to sagging inflation and the need for further monetary policy stimulus in Europe.
The euro slipped to $1.0589 during Draghi as spoke on Thursday, then rebounded as he noted no policy changes. The euro last stood at $1.0659.
Reaction was limited to a batch of data out of China on Friday. China's economy grew 6.8% in the fourth quarter from a year earlier, slightly more than expected, supported by higher government spending and record bank lending that has stoked concerns about an explosive rise in debt.