This article first appeared in The Edge Malaysia Weekly, on September 17, 2018 - September 23, 2018.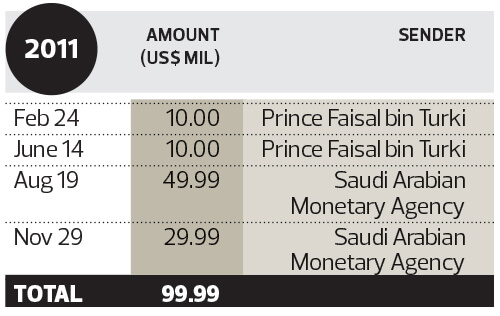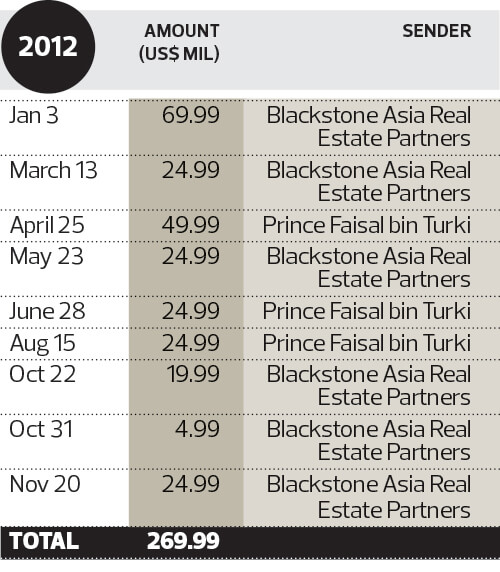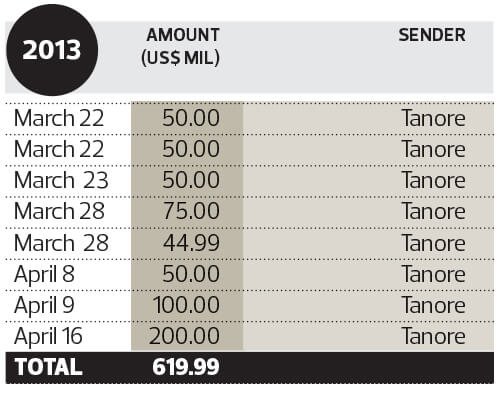 THE letters that Datuk Seri Najib Razak claims are proof that the US$972 million that went into his AmBank account from 2011 to 2013 were cash gifts from the Saudi royal family were not signed by the prince in whose name the letters were issued but by someone else.
Sources say after the exposés by Sarawak Report and The Wall Street Journal in 2015, investigators had met a person who identified himself as Mohammad Abdullah Al Koman and claimed to be a representative of Prince Saud Abdul Azizi Majid Al Saud.
Mohammad Abdullah told the investigators that he was the person who prepared the letters and signed all of them on behalf of the prince.
There were three similarly worded letters, purportedly from Saud Abdul Azizi, that were presented to AmBank between 2011 and 2013 by Nik Faisal Ariff Kamil, who was managing Najib's account, as evidence of the source of the money before it was transferred to Najib.
The first letter, dated Feb 1, 2011, said US$100 million was to be given to Najib for his contribution to Islam and was to be used as he wished.
What followed over the next several months were the following transfers to the account.
While nearly US$80 million appears to have come from an official entity of the Saudi government, the Saudi Arabian Monetary Agency, investigators say the US$20 million from Prince Faisal bin Turki originated from 1 Malaysia Development Bhd (1MDB).
According to the US Department of Justice, Turki had, on Feb 18, 2011, received US$12.5 million and, on June 10, another US$12 million from Jho Low's Good Star Ltd. Bank transfers showed that Turki subsequently sent US$10 million to Najib about a week later, later, on Feb 24, and another US$10 million on June 14.
A second letter, dated Nov 1, 2011, was submitted by Nik Faisal to AmIslamic Bank, stating that US$375 million would be gifted to Najib in 2012 and that the money would likely come from Blackstone Asia Real Estate Partners, after which nine transfers were made as follows:
Mohammad Abdullah told investigators that Blackstone Asia Real Estate Partners was owned by the family of the Saudi king at the time and that he had appointed Eric Tan Kim Loong as a "trusted associate" to manage their assets. Tan is Jho Low's sidekick.
Investigations carried out by the US Department of Justice, however, showed that Blackstone Asia Real Estate Partners had received as much as US$1.1 billion that originated from 1MDB via the so-called fake Aabar-BVI and it was from this US$1.1 billion that US$269.99 million went into Najib's account in 2012.
A third letter, dated March 1, 2013, stated that US$800 million would be transferred from Tanore Finance to Najib and was also presented by Nik Faisal to AmIslamic Bank, after which the following transfers took place:
Mohammad Abdullah again told investigators that Tanore belonged to the Saudi royal family and that Eric Tan was also managing the assets for them.
The DOJ has, however, traced the source of money at Tanore as having originated from 1MDB.
Sources say Mohammad Abdullah told investigators that he and Eric Tan were not able to provide any other information and documents with regard to the billions that were gifted to Najib because they were governed by Saudi laws "involving the interests of the Saudi royal family".
In other words, Mohammad Abdullah told Malaysian investigators that they had to take his word for it that it came from Saudi royalty.
Sources say after the meeting with Mohammad Abdullah, investigators concluded that "it was not safe to confirm that the money from Blackstone and Tanore were contributions from Saudi Arabia because it was still unclear and there was a lack of supporting documents".
They said all that they had were just verbal assurances given by Mohammad Abdullah and that there was no other confirmation of the authenticity of the letters and the prince himself.
The report by investigators further stated that based on information received from Bank Negara Malaysia, four payments were made to Tanore in March 2013 from money raised by 1MDB Global Investments Ltd.
Given all the uncertainties and conflicting information, investigators proposed that further investigation be carried out, especially on a government-to-government level, to obtain information from overseas.
But the investigation was stopped in late 2015 by then attorney-general Tan Sri Apandi Mohd Ali, who cleared Najib of any wrongdoing.
Save by subscribing to us for your print and/or digital copy.
P/S: The Edge is also available on Apple's AppStore and Androids' Google Play.