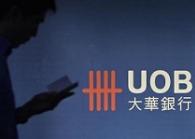 SINGAPORE (April 30): United Overseas Bank (
Financial Dashboard) reported 1Q2015 earnings of $801 million, up 1.6% from a year earlier, with a rise in impairment charges and operating costs partly offsetting higher fee income and loan growth.
Impairment charges were higher across its markets in Southeast Asia, up 7.6% to $169 million, on the back of a larger loan book.
UOB's non-performing loan ratio edged up to 1.2% from 1.1%.
Net interest income increased 8.3% to $1.2 billion as loans grew across most sectors and regions.
Net interest margin inched up to 1.76% from 1.73% on improved loan pricing and higher securities yield.
Non-interest income grew 17.5% to $755 million on higher contributions from all business lines.
Total operating expenses were also higher, up 12.9% at $852 million, driven by staff and IT expenses.
Profit contributions from associates fell to $4 million from $43 million due to a divestment gain in 1Q2014.
Compared to 4Q2014, UOB's March-quarter earnings rose 1.9%.
Of the three Singapore banks, UOB stood out for being able to drive net interest margins higher both y-o-y and q-o-q, according to Maybank Kim Eng analyst Ng Wee Siang.
UOB's organic loan growth of 2% q-o-q and 7.8% y-o-y in 1Q2015 was also higher than its peers', he noted.
"This reflects UOB's lower reliance on China for growth."