This article first appeared in The Edge Financial Daily, on December 17, 2018.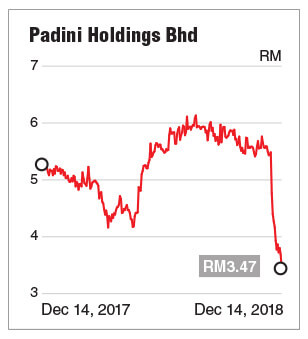 KUALA LUMPUR: Selling pressure on Padini Holdings Bhd shares seems to have yet to ease since the release of its first financial quarter results late last month.
The persistent selling in the past two weeks has wiped off more than RM1 billion market capitalisation from the fashion retailer.
Its share price has, since then, fallen 36.7% to a near-one-and-a-half-year low of RM3.47 last Friday, from the closing of RM5.48 before the release of the financial results. The stock already sank below the lowest target price (TP) of RM3.95 pegged by investment analysts.
The sharp 42.5% fall in net profit has put Padini on most analysts' selling list. Besides the substantially lower earnings, the company's high inventory level also raises concerns should the trend continue.
Padini's latest balance sheet as at Sept 30 showed its inventory level at a historical high of RM319.53 million compared with RM239.77 million a year ago. The unsold stocks were at RM193.2 million at the end of the financial year ended June 30, 2017 (FY17).
The high inventory level could be due to two scenarios. One is that Padini is stocking up for the preparation for a shopping spree during the year-end festive season and Chinese New Year, which falls in early February. In this case, it would not be much of a concern, according to analysts.
The second scenario is that the retailer's sales have been bad despite offering good discounts. This would not augur well for Padini's prospects should this be the scenario that the retailer is facing.
It is worth noting that inventory levels of Padini have not surpassed the RM300 million mark in the past, and its inventory was last at its highest level on Sept 30, 2016 of RM285.2 million.
Analysts downgraded their calls on the retail stock soon after the release of its quarterly results; half of the 12 research houses, which track the counter, are now having "sell" calls, followed by five "hold" calls, with an average TP of RM4.89, according to Bloomberg data.
Macquarie Equities Research is the only one research house with a "buy" call and the highest TP of RM6.05.
Judging by the heavy downgrade, the quantum of an over 40% drop in net profit caught many analysts by surprise considering that the fashion retailer had achieved impressive growth in the past three financial years ended June 30 — between FY15 and FY17.
Padini's net profit attributable to owners grew by a three-year compound annual growth rate (CAGR) of 20.07% to RM157.39 million for FY17, from RM90.91 million for FY14. Meanwhile, revenue grew by a three-year CAGR of 21.94% to RM1.57 billion for FY17, versus RM866.26 million for FY14.
The growing earnings then fuelled a strong share price rally. The retail stock soared to an all-time high of RM6.17 in early August before pulling back. The company was then valued at RM4.08 billion.
All said, the saving grace is that Padini has a healthy balance sheet, whereby it is in a net cash position of RM314.2 million. This implies that Padini will not face any tight cash flow problem in the near term, although it is stuffed with the unsold stocks that are piling up.
As at Sept 30, Padini's cash and bank balances were at RM324.97 million, while its total borrowings stood at only RM10.77 million.
This amount of cash pile would enable Padini to also retain a flexible cash flow to meet its business operation needs as well as expansion plan.
In fact, despite the big decline in net profit, Padini still managed to declare an interim dividend of 2.5 sen per share — an amount that was same as a year ago.
Maybank IB Research analyst Kevin Wong, in a report dated Dec 7, said Padini so far had planned for four new stores in FY19, bringing its total store count to 106 stores.
Meanwhile, Padini is also considering closing several underperforming stores within the next one to two years, which in turn would ease its high store operating expenditure, Wong added.
Elsewhere, there are no immediate plans to add on more stores in Cambodia and Thailand as the group intends to stabilise and grow its existing outlets, said Wong, adding that Padini currently had three outlets in Cambodia and seven Vincci stores in Thailand.