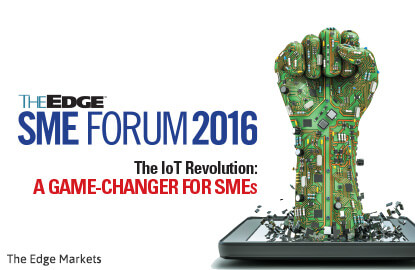 This article first appeared in
Unlisted & Unlimited, The Edge Malaysia Weekly
, on September 12 - 18, 2016.
SMALL and medium enterprises (SMEs) are strategically placed to take the most advantage of digital disruption as they are more agile and flexible in meeting the needs of the world, says Norhizam Kadir, vice-president of infotech at Malaysia Digital Economy Corp (MDEC).
Industry giants such as IBM and Microsoft used to be the ones that initiated technology disruptions. However, nowadays, the disruptors are the smaller players with a better understanding of the market and its challenges, he points out.
"Because of this, large corporations — such as General Electric (GE) — are looking to transform themselves. They feel that if they do not catch the wave of the sharing and connected economy, they may lose the opportunity to be competitive," says Norhizam, who spoke at The Edge SME Forum 2016 in Kuala Lumpur recently.
In terms of adopting the Internet of Things concept, it is crucial for SMEs to be extremely focused and determine what problems they are trying to solve, he says. "For example, if you own a small market, what is your number one challenge? Is it about inventory management? If it is, then look for the solution. Solutions are there, but the most important of all is optimising them. IoT developers need to think about how to develop more robust solutions that are optimal for SMEs."
Some SMEs feel intimidated when it comes to adopting new technology. But Norhizam points out that as IoT leverages the internet, data and connectivity, it is able to transform solutions for SMEs and bring them to the next level. Therefore, it is best that they start thinking how to integrate IoT into their businesses. 
"In a nutshell, the sharing economy is here to stay and it is disrupting every part of our lives whether we realise it or not. Therefore, industry players — big or small — need to get on board to avoid losing out," he says.
MDEC has been tasked by the government to look into the growth of the digital economy and to make technology an important sector for Malaysia. It is currently working on improving the country's digital economy ecosystem. 
Norhizam says it is important for the ecosystem to thrive and be conducive for the development of local technology champions and enable continuous investment. "We work with local and foreign partners and we look at every aspect, including talent development. 
"For example, one of our focus areas is data analytics. We are working on getting 1,500 data analytics scientists by 2020. We are doing our best not only to look at the problems but also work out the solutions."