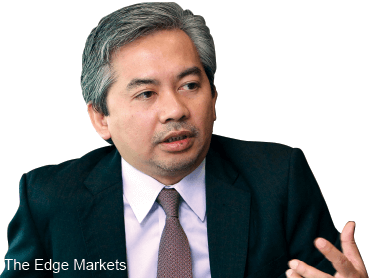 UNIT Peneraju Agenda Bumiputera (Teraju), set up four years ago to provide bumiputera entrepreneurs with business opportunities, financing and human capital development, has managed to create RM46 billion in value, according to CEO Datuk Husni Salleh.
The agency was established as a strategic unit under the Prime Minister's Department to lead, drive and coordinate the bumiputera agenda as part of the National Transformation Programme as well as act as the secretariat to the Bumiputera Economic Council.
Husni has high hopes for Teraju. He wants the agency to be instrumental in helping bumiputera entrepreneurs be more competitive, resilient and forward looking, thereby creating a slew of high-performing companies.
"We want to pursue the bumiputera entrepreneur growth story. There is no point creating the numbers if you don't also look at the growth of these companies. We have to ensure that our programmes are sustainable," he says.
Husni wants the programmes to have a multiplier effect, where every ringgit spent generates at least RM4 to RM5 in return. But he also has to deal with an issue faced by many of the government-created funds that help small and medium enterprises (SMEs) — bridging the gap between SMEs, which need funding but do not have track records, and financial institutions, which have the bottom line to consider in taking such risks.
"If you can create that bridge, it is good enough. If we can be that bridge, we can serve bumiputera entrepreneurs in a bigger way. This is the change we are trying to bring about," he says.
When it comes to funding SMEs, however, Husni thinks it should not just be left to the government. There should be an ecosystem that includes both government-linked and private companies, he says. "[The companies] need to work with the SMEs, the people with the innovative ideas."
With this in mind, Teraju seeks to match SMEs with large enterprises. One of the ways it does this is with the Skim Permulaan Usahawan Bumiputera (Superb) programme, which is aimed at assisting young entrepreneurs (between 18 and 40) with their business plans.
This scheme provide grants of up to RM500,000 to support innovative business ideas. The entrepreneurs also receive mentoring, financial training and support in terms of market access.
Such schemes help to create a culture of cooperation between the bigger and smaller players, says Husni. This, in turn, helps to improve the ecosystem.
Husni believes that as a government agency, Teraju can play a part by facilitating this process. At the same time, he thinks it is high time the private sector stepped up and took a more active role in developing start-ups and SMEs to grow and enrich the ecosystem.
This happens in the more successful countries, he points out. The bigger players help to nurture the smaller ones. In South Korea, for example, the Small and Medium Business Administration (SMBA), run by the Ministry of Trade, Industry and Energy, comes up with a wide range of practical and productive initiatives for SMEs.
One of the policies the SMBA promotes is "shared growth", or creating conditions for fair competition. It does this by holding procurement meetings between the large enterprises and SMEs. It also implements "new product development on condition of procurement", which basically means it supports the joint development of technologies, improved technological capacity and consolidation of sales routes for SMEs to meet the procurement demands of the large enterprises.
However, it is a different scenario in Malaysia. According to Husni, the value-add from large enterprises in the country is still low.
"We don't see much benefit or spillover effect on local SMEs. I think this is where we need to develop a more comprehensive strategy, so that what the government is trying to do is supported at all levels. We cannot do things in silos. We need to see things from end to end," he says.
"I am currently trying to help the ecosystem, particularly helping bumiputera entrepreneurs to compete more effectively."
Large enterprises looking for good bumiputera SMEs to cooperate with can turn to Teraju for help. In fact, the star bumiputera SMEs were identified through the High Performing Bumiputera Companies programme, which was launched in July 2011.
This programme, also known as Teras, is aimed at taking high performers further by providing business opportunities based on merit and helping them to expand regionally. Large companies that participate in Teras play the role of big brother, supporting the growth of up-and-coming businesses.
The programme aims to identify and nurture companies that will survive and thrive over the next five to 10 years. To qualify for Teras, a company must demonstrate strong financials — a minimum turnover of RM10 million and clear after-tax profit for three consecutive years. So far, 900 companies have been identified.
"About 60% are SMEs. The other 40% have crossed the RM50 million threshold. Not many of the SMEs have expanded overseas. In fact, I would say less than 10% have," says Husni.
Clearly, this has to change. And Teras is there to help. Companies that qualify for the programme have access to a fund that they can use for working capital or asset purchases that help their business grow.
The fund is provided by Teraju in collaboration with financial institutions. There is currently more than RM2 billion available to Teras members through SME Bank, RHB Islamic Bank, Malaysian Industrial Development Finance Bhd and Maybank Islamic Bank. As at December last year, RM800 million had been approved for disbursement under this programme.
Teraju is not just pushing these companies to expand and regionalise, but also would like them to get listed. "Not many of them are listed. They have not been structured or positioned to tap the capital market," says Husni.
He says these companies find it challenging to grow their capital while enhancing their visibility and credibility. Many do not have the right people to manage the business and technology adoption is still very low. And about 70% of them still do not have websites. "They have not gone into e-commerce or made use of the tools available today."
By embracing technology, these companies will be able to reach a larger market, says Husni. He does not want them to limit themselves to brick-and-mortar businesses as this would limit their growth potential.
The challenge here is their mindset. Many of the local companies love to jump on the latest trends. "If the nasi lemak business is booming, then all the other entrepreneurs want to sell nasi lemak," he says.
This is where the Institut Keusahawanan Negara comes in. Teraju has revamped the programme to ensure that it targets the areas in which the entrepreneurs need the most training. Clearly, technology adoption is one of these areas. Another area is the understanding of the legal structure of their business.
Bumiputera SMEs, which make up only 20% of the total in the country, tend to concentrate on a few sectors. The key ones are oil and gas (O&G) and construction.
Thus, there is a need to restructure the composition of these companies, says Husni. In fact, this is one of Teraju's priorities. "The construction industry is dependent on the government spending on infrastructure, and O&G on petrol prices."
Husni points out that since so many of the SMEs in the O&G sector are bumiputera companies, they were the hardest hit when crude oil prices tanked. "This sector has been a major driver of the economy, but we cannot rely on it alone. We have to innovate."
This is why Teraju is trying to push bumiputera companies into new areas, such as green technology and biotechnology. It wants to see these companies leverage Malaysia's natural resources and extract more value from them. And, to not just sell raw commodities but also add value to their offerings.
For instance, the country is one of the world's largest palm oil producers. Thus, Malaysian companies have raw materials to work with. Husni wants more bumiputera companies involved in value-added activities because they command the highest margins.
The market is tough, and is about to get tougher. As more regional and global initiatives come on stream, competition will heat up, not only within the country but from other countries as well. Local SMEs have to step up their game considerably if they want to compete. They will need to build capacity.
"I am encouraging bumiputera companies to invest in capacity and capability. Capability comes in the form of professionalism, management and the people they bring in," says Husni.
"They have to form joint ventures, not just with local players but foreign ones as well, capture new markets and scale up to play alongside the big boys, and make it to the big leagues."
This article first appeared in Unlisted & Unlimited, The Edge Malaysia Weekly, on April 13 - 19, 2015.