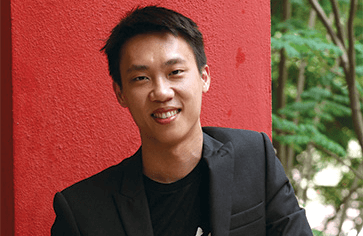 This article first appeared in Unlisted & Unlimited, The Edge Malaysia Weekly, on May 9 - 15, 2016.
You have seen a property that meets all your requirements for a home. Now, your only concern is securing a loan.
Usually, the real estate agent will be pushing you to close the deal before someone else grabs the property. But this requires you to put down a deposit, which you may lose if you do not manage to secure a home loan within 14 days.
This has been the practice for so long that people shrug it off, not stopping to think that the agents are not ethical in pushing them to make the deposit without knowing if they can secure a loan.
And this is why Jared Lim's Loanstreet comes in handy. The company arms potential house buyers with their credit valuation. With one simple phone call, they will be able to find out whether they qualify for a loan.
Lim did not start out with this aim although he had experienced losing his deposit upon his failure to secure a loan. "My partners and I launched Loanstreet in July 2012 as a loan aggregation website. We initially invested RM100,000 for a little over a year and started to pitch for investors."
They managed to secure some funding from The Star Accelerator Fund in August 2013 but were unable to secure a second round of funding as the programme ended soon after.
After a while, Lim and his partners decided to turn the website into a consumer finance portal. There were already plenty of competitors in the market with greater resources, such as iMoney and RinggitPlus.
"We were in the top tier but strategically, we knew that over the long run, we would not be able to compete with them. We knew we had to operate in a different way to survive, before we could set our sights higher," he says.
Lim decided that Loanstreet should not focus on the website per se but also on the technology required to run it. To be truly disruptive, he would need to involve the banks to help speed up the loan approval process.
"I decided that we would not just go online and distribute products. We wanted everyone in the whole value chain to benefit from Loanstreet's existence," he says, adding that they then started working on the platform, Loanstreet Partners.
The platform handles the life cycle of loan applications for customers in a systematic way. However, its most important feature is providing credit evaluation results to consumers instantly on behalf of the banks. This helps the consumers when they are shopping for a home, car or personal loan.
"The potential house buyer can give us a call or put in a request or inquiry at our website. We will reply with a phone call on the same working day on behalf of the banks to let him know how large a loan he qualifies for," Lim says.
The analysis depends on the accuracy of information provided such as income details, existing commitments, qualifications, age and details of the property. "If you provide us with enough information, we will be able to provide a more precise evaluation in 10 minutes."
"By obtaining the analysis, consumers will know how much they can afford, and the real estate agent will be able to refer them to the right properties."
Once the consumer has decided to apply for a loan, Loanstreet Partners will submit his details to the bank. "The bank will get back to you within one working day to tell you what you need to do to complete the application. This usually involves submitting supporting documents. You should be able to secure a loan if the information you have given us is accurate," says Lim, adding that normally, it takes at least seven working days to secure the loan.
"We try to make sure that everyone in the loan application cycle gets value from our platform. We do not try to push products. The decision lies in your hands," he says.
Loanstreet also claims to provide value to the banks as they can now observe the turnaround time and sales performance of their staff and either retrain or eliminate underperforming employees.
Lim says the platform assigns scorecards to banks and licensed money lenders. "Different institutions have different criteria, which translates into different scorecards.
"This is why different banks offer you different loan amounts. Sometimes, although none of the banks approve your application, a non-banking lender might, at a higher interest rate."
So what used to take seven working days now takes 10 minutes. "We have already filed for a patent for this technology. The best part is, it is not limited for use within this country. We are currently talking to several parties to export it to countries like Indonesia and Thailand," he points out.
Loanstreet has two types of clients — consumers and customers. Consumers are the people looking for financial products while customers are business partners who pay a subscription fee for its services. "Today, we have 1,300 business partners on our platform, from lawyers, banks and lenders to real estate agencies and insurance agents."
Lim adds that the platform is new but growing daily. The company's focus is on ensuring that its business partners find value in the platform.
Becoming a consumer finance portal has been good for the company. The team has doubled in size and revenue has quadrupled. Lim says the team will start focusing on the website again. It will also be looking for new partners and secure another round of investment.
He says the company has an edge over its competitors because its superior technology produces credit evaluations quickly. "When it comes to credit products, I do not think anyone has the kind of knowledge and ability that we have."
Lim admits that cash flow is presently a big challenge, which is why it is looking for another round of funding. Its main expenses are research and development and recruiting the right talent.
At the moment, Loanstreet has three income streams: advertising from the website, transactional fee for each loan product distributed and the subscription fee paid by its business partners.
In 2014, Loanstreet offered debt restructuring services but as it was an energy and resource-intensive exercise, the small team could not cope and they were better off doing something more productive. "We decided to stop offering it. Now, when a request [for help with restructuring debt] comes in, we redirect it to the Credit Counselling and Debt Management Agency (commonly known as AKPK)," says Lim, adding that he does not discount offering this service again.
Lim believes sites such as Loanstreet that offer a plethora of finance-related services are here to stay. "We are going to see more financial products distributed through these sites in the next five years, especially the products that are less complicated.
"Products with more complexity such as life insurance and property will still require the services of a salesperson," he adds.
Lim hopes that financial institutions in Malaysia will become more open to and supportive of new ideas and initiatives, especially when they stand to benefit.
"Foreign banks are more receptive to new ideas with merit. Many local banks have started to accept fintech [financial technology] because they have seen the results. But we are going to need more than that to really take off," he points out.
Going forward, Loanstreet will still focus on consumer credit products but it will also be looking into insurance and wealth products.
It is in discussions with one of the largest car dealers in Malaysia on a partnership featuring hire purchase loans. The team is now trying to understand the industry and the issues it faces to figure out how Loanstreet's technology can be adapted for it.
"The future is going to look very different. And I would say we are inventing the future," Lim declares proudly.