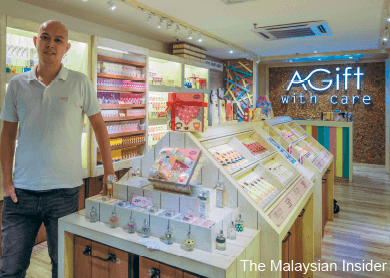 IF you could give your friends a gift that benefited them as well as a group of people with special needs, wouldn't you? This is something Darren Teh, the co-founder of AGift with Care, believes in.
AGift with Care is a local beauty product line under parent company Universal Joy Sdn Bhd. AGift with Care sells perfumes, lotions, facial care products, shower cremes, hand washes, scrubs and even hair care products.
But they are more than just about beauty on the outside. The company hires people with special needs to paint the perfume bottles that are later sold to the public at its four stores.
AGift with Care was started by Teh and three partners in 2010. "We started operations in July 2010, but our first shop only opened in January 2012," Teh says.
The company has three outlets in Penang — at Gurney Plaza, Gurney Paragon and Queensbay Mall — and one in the Klang Valley, at Sunway Pyramid. Teh is the operations manager while his partners take care of marketing, finance and other aspects of the business.
Teh worked as a retail sales assistant for a number of years before venturing into this business. This is the first business venture for all four partners.
It all started in the Penang Botanic Gardens. Teh was on one of his frequent walks when he came across a group of people with special needs painting on recycled bottles. They were trying to peddle the bottles off to the public for income. He said to himself, "They are so determined to help themselves. But what can I do to help them?"
Teh believed that their "business model" would be unsustainable, as the public would have little or no use for more than one bottle. Later, he visited a special needs charitable organisation and his resolve to help people with such needs became stronger.
By combining the idea of harnessing the talents of the people with special needs with a more sustainable business model, he came up with AGift with Care. "I wanted to use the talent of the painters to put on saleable daily products, like perfume," Teh says.
Bottle-painting, he says, instils a level of self-confidence in people with special needs as they feel a huge sense of accomplishment each time an artwork is completed. "We are able to utilise their talent in drawing on our perfume bottles and we pay them a small fee for each painted bottle. That way, they do not need to rely on donations, but are able to contribute to their own welfare and express themselves through art."
The painters are not given a deadline to finish a certain amount of bottles. They are encouraged to work at their own pace with the supervision of volunteers.
According to Teh, the team at AGift with Care starts preparing its Christmas designs in April and gets the painters to work on them from July to the end of the year. The team works with about three to four painters from each home it is partnered with. It also engages a few less fortunate individuals to contribute to the painting.
"We also get quite a number of inquiries from people who want to become painters. If there are slots available, we will definitely help them out by letting them paint," says Teh.
Although he does not disclose how much the painters earn for each bottle, he says it is an ongoing project that can sustain them. To date, the company has paid out about RM100,000 to the painters.
On top of giving them small projects to work on, Teh and his team donate 20% of their profit to their five partners — the Cerebral Palsy (Spastic) Children's Association of Penang, National Autism Society of Malaysia, Resource and Education for Autistic Children, The Joblink Centre (The Society for Aid to the Handicapped) and Penang Down Syndrome Association. AGift with Care has chosen to limit the number of partners it works with to maximise the share of donations each organisation gets annually.
As Teh did not have tertiary education, he could only count on his experience as a retail sales assistant to get him through the early stages of the business. When the idea for AGift with Care came about, he knew he had to exhaust all his resources to make it a successful business, not only for himself but also for his stakeholders — the people with special needs.
The team at AGift with Care had built the brand just like it would have any other commercial brand and was willing to take the time to make sure it got the process right. Thankfully, its investors (who wish to remain anonymous) were committed to the cause and do not expect to see returns in the short term.
"Quality is the most important element [of the brand], so people are not just buying our products because it is a charitable act," Teh says, adding that sustainability has always been a priority.
AGift with Care's products are reasonably priced, from RM7.90 for hand sanitizers and up to almost RM200 for perfume sets, which according to Teh, is a very sustainable price model to work with.
The company expects to roll out a new phase of products sometime this year to attract a wider audience. All the designs and concepts are thought up by Teh and his partners.
"In everything that we do, we do it as a group effort," he says. This includes the name of its products. The perfumes have names like Passionate, Benevolence and Amazing Grace.
According to Teh, these names are meant to represent an act of kindness. "We also wanted to give them names that people would remember."
AGift with Care ensures that its products are of the best quality by producing and manufacturing everything locally. "We have an internal quality control procedure in place," Teh says, adds that most of its products come with a halal certification.
The company has also provided a platform for those who want to reach out to the community with acts of kindness. "When you purchase an AGift product for your personal use, you are helping their welfare indirectly. You let us help on your behalf," Teh says.  
The company sets aside up to RM10 for every product sold at its four outlets for charity. Every year, Teh and his team set a target for donations. "[Over the past three years], we have donated more than RM145,000."
In the first year of operations, the company managed to raise enough to donate a total of RM12,000 to its five partners. But last year, its third year of operations, its profit reached the point where the company could donate RM11,000 to each partner. This year, it expects to raise enough to donate RM70,000 to its partners.
The company has hired more 20 staff to date. "We are looking to expand the business and add at least one outlet a year in Malaysia," Teh says, adding that the company is open to the idea of franchising.
"We want to help as many people with special needs as possible by extending our partnership to other charitable organisations. We are open to supporting other causes in the future when the timing is right," he says.
The company's long-term goal is to create an international brand. It hopes to open stores in neighbouring countries in the coming years and avoid taking the distribution route.
"I don't want to expand just for marketing purposes. I want to do it the right way even if it takes a lot longer than usual," Teh says.
Later on, when the company has more outlets within the Klang Valley, it hopes to partner with organisations in that area.
Of course, the business comes with its fair share of challenges, one of which is getting the brand name out there.
"It is quite a familiar name in Penang as we have been around for three to four years now, but it is still fairly new in the Klang Valley," Teh says.
"Now, we are just trying to build up brand loyalty. How do we do that? We have to make sure our products are of the best quality to let people know that it is a good brand."
This article first appeared in Unlisted & Unlimited, The Edge Malaysia Weekly, on April 13 - 19, 2015.