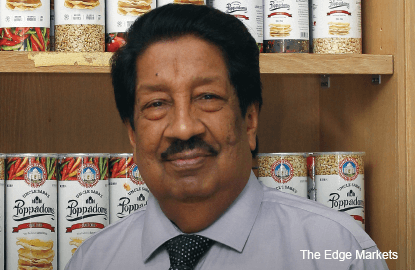 This article first appeared in Unlisted & Unlimited, The Edge Malaysia Weekly, on May 9 - 15, 2016.
IMAGINE chomping away on poppadom instead of Pringles potato chips. Given the snack-worthiness of the traditional Indian lentil wafer, this should have been a good business proposition all these years. The thing is, poppadom has to be consumed within a short time of being fried.
However, with a little creativity and the judicious use of technology, the father-and-son team at Bhavani Foods (M) Sdn Bhd has figured out just how to do it with Uncle Saba's Poppadoms. Incidentally, Bhavani Foods is famous for its Taj Mahal Pappad, the uncooked poppadom available in most supermarkets and provision stores throughout the country.
According to its managing director S R Saba and his son Sreenivas — a director of the company who is spearheading the new venture — they decided to embark on the project because their core business, Taj Mahal Pappad, which accounts for 80% of the poppadom market in Malaysia, has limited reach. Besides, not everyone has the skill necessary to fry the disc-shaped dry dough that is usually made from split urad dhal (black lentil flour).
Poppadom is a staple of Indian cuisine and is consumed not only on the subcontinent but also by the diaspora around the world. However, over the years, the preparation and cooking style of this savoury delight have changed due to regional influences.
"Not many know how to fry poppadom properly. Although it's not a Herculean task, you must fry it at the correct temperature to achieve the intended texture. Otherwise, it will become too brown or too hard," says Saba, the inspiration behind Uncle Saba's Poppadoms.
He adds that some people do not like to fry poppadom because it can get messy, splattering oil all over the stove.
Saba, who turns 76 this year, has been in the poppadom business for 51 years. His father had started a sundry business in Singapore in 1918 and Saba joined it upon graduating from the National University of Singapore in 1965. He was 25 at the time. The young man successfully transformed his father's humble retail shop into a million-dollar wholesale business, dealing largely in the import of agarbatti (Indian incense or joss sticks) as well as prized delicacies like Alphonso mangoes from India and cashew nut from Africa.
Seeing a market for high quality poppadom, Saba, a naturalised citizen of Singapore, opened a factory in his hometown of Tanjavur in Tamil Nadu, India, and decided to name it Taj Mahal, after the world's renowned ivory-white marble mausoleum in Agra, Uttar Pradesh. He exported the product to Singapore in 1965 and to Malaysia five years later.
The main distribution centre was later moved to a small outlet in Lebuh Ampang, Kuala Lumpur. "My Taj Mahal poppadom became very popular and until today we control about 80% of the market in Malaysia. We are popular because we control the quality of the poppadom from the production stage itself. We manufacture the poppadom ourselves. My company in Chennai, which oversees the manufacturing plant [now] in Madurai, ensures good raw materials are supplied to retain the superior quality of the pappad. There are thousands of poppadom brands in the market today but Taj Mahal is still the most well known," Saba declares proudly.
He may be touching 80 soon but Saba is sharp as a tack. Others would have been content with controlling more than half the market for poppadom but he knew its possibilities were far from exhausted. There was room for growth.
"I realised that it was not Indians alone who loved poppadom. In Malaysia, the Chinese and Malays love it too and beyond Asia, the Europeans, especially the British, love it. So, I told myself that I must do something that is ready to eat. This is what triggered the idea for Uncle Saba's Poppadoms.
"I had been thinking about it for many years but it only materialised in 2014 when my son managed to develop the product," Saba says.
Sreenivas, who is the youngest of Saba's six children, has a master's degree from the prestigious London School of Economics. Upon graduating, he spent a couple of years in the logistics industry in India and stepped in to help develop the new poppadom line in 2012 and bring to fruition his father's dream of going global with poppadom.
Though their product is not the first pre-fried poppadom in the world, the rest have been on a small scale, usually cottage industries distributing limited quantities. There was nothing in the market on an industrial scale, so Sreenivas began to work on the idea.
He discovered that one of the reasons the ready-to-eat poppadom industry had not taken off was the lack of proper equipment. "You haven't seen ready-to-eat poppadom on a scale like ours because there was no proper frying machine."
So, Sreenivas travelled far and wide in search of one and finally found a supplier who made the machine in Malaysia in 2013.
"It was a fortuitous combination of circumstances because we couldn't have launched the business anywhere but in Malaysia because the ecosystem was here, the support was here, the people knew our product [Taj Mahal Pappad], and we knew we could get whatever machines were required at the right price and with the right skill set," he points out.
When the company was looking to diversify and expand, it was very important for it to be identified as a Malaysian rather than an Indian product. "We didn't want people to typecast or pigeonhole it as one sort of cuisine, which is why even though the Taj Mahal name was there, we decided to go with a new branding and call it Uncle Saba's Poppadoms. You will notice that we use British spelling."
The objective was to position Uncle Saba's as an international brand. To ensure the untapped markets were not left out, Sreenivas got the word "poppadom" translated into Malay, Chinese, Japanese and Tamil. "On the back of the packs, you will see the phrase, 'live lentilly', which is sort of our slogan."
The idea, says Sreenivas, is to identify the product as poppadom to people who are familiar with the food item. For all else, it will be known as a lentil chip. Thus, the product will not be targeting only people who know what poppadom is.
The ready-to-eat poppadom comes in three different recyclable packages: large canisters, small canisters and pillow bags.
"I think the canister-style of packaging lends itself to credibility, which you can't find in the poppadom market. If you are on the same rack and people see you in the same light as Pringles or Mr Potato, it automatically gives you credibility. It's a more convenient sort of packaging. And we launched the pillow bags in January for the more cost-conscious customer," says Sreenivas.
At the moment, Uncle Saba's Poppadoms is sold in major outlets such as Giant and Mydin as well as convenience stores such as KK Super Mart and small sundry shops that also sell Taj Mahal Pappad.
Sreenivas says the response has been encouraging since the product hit the shelves in October last year. "This is one way we know we are validated by the market. The proof of the pudding [in this case, poppadom] is in the taste. People have approached us with very good comments as well as suggestions for improvement."
He says he welcomes constructive criticism because that means people are paying attention. Right now, the company is looking for partners to help sell the product locally and overseas. Uncle Saba's is certified halal in India (where the raw materials are sourced from) and the company is in the process of obtaining halal certification in Malaysia. It is also looking to obtain international food certification, such as HACCP (hazard analysis and critical control points), to make the product import-ready.
Although it has yet to penetrate the international market, Uncle Saba's Poppadoms does travel. It is now available on AirAsia X, the long-haul budget airline and subsidiary of AirAsia Bhd.
There is also the health food angle. Poppadom may look like a potato chip but it is a healthier alternative. "Our lentil chips are made of dhal, and have about four times as much protein as potato or corn-based chips of the same size," says Sreenivas.
According to him, Uncle Saba's Poppadoms has three times the fibre of your average chip and 40% less carbohydrates and 30% less saturated fat. The flavours include barbecue, tomato and sweet chilli. The last two are bestsellers although they contain monosodium glutamate (MSG). Despite this, Sreenivas asserts that Uncle Saba's Poppadoms is as natural as it gets.
He says the product stands apart from its hyperbolic paraboloid (the curved shape of potato chips) counterparts because these more famous brands are not made purely from potatoes but also contain additives and enhancers to achieve the crunchy and crispy consistency, which makes potato chips a comforting and delightful treat. "Our poppadom is almost entirely natural because around 98% to 99% of it is just dhal. We try to keep it natural and healthy, which is why the 'original' flavour doesn't contain MSG. The other more distinct flavours have MSG but we are trying to see how we can improve and get around this."
Uncle Saba's Poppadoms is not fabricated, says Sreenivas. Right now, it is fried in palm oil, but here too, the company is looking for healthier alternatives.
"The thing is, you can't be healthy if you are already snacking on potato chips and the like. People are eating that and they are not likely to stop. My only pitch, which I think is credible, is to be healthier than what is already out there," points out Sreenivas.
According to him, it is just the beginning. Right now, the company is looking at how to get the flavours right without using MSG. "I hope that by next year, all the other flavours are free of MSG."
Why the different flavours? To get a grasp on the many taste profiles out there in the market, replies Sreenivas.
"Initially, we had to have a safe and friendly approach. We had to see what people would like. So, we had a lot of taste-testing with flavour consultants and we narrowed it down to these four flavours that we thought would sell, backed by R&D. If you look at all the flavours, they are essentially Western. Our upcoming flavours, like seaweed and wasabi, are Eastern.
"One of our approaches is to innovate flavours suitable to the local palate. I don't think this has been done before in Malaysia but if you look at Thailand, Lay's has satay-flavoured potato chips. Lay's has all sorts of local flavours in the countries where it operates, and these sell really well. I haven't seen that in Malaysia, so that's something for us to explore," he explains.
Some of the flavours that are in the pipeline are sambal, rendang, tandoori and, as mentioned before, seaweed and wasabi. Sreenivas says the company receives requests for many distinctive flavours on its website and social media pages — everything from the run-of-the-mill cheese to fish head curry and kebab flavours.
Which market is Uncle Saba's Poppadoms targetting? "Anybody between 18 and 34 who likes snacks but wants a healthier choice. Considering our eating habits, I'm sure people would have this one day and potato chips the next. It's for those days you feel like having something slightly healthier."
According to Sreenivas, one of their biggest marketing channels is digital. "I expect more people to discover the product online than on the shelves because we are trying to keep all operations lean until we get some sort of momentum."
Despite the product's growing fame, Sreenivas does not see the new venture cannibalising Taj Mahal Pappad. "Our products target two different markets, meaning that the poppadom business is for anybody who knows how to fry it. So, maybe it will be somebody over 50 who is cost-conscious and wants to fry the poppadom. The chip is for anybody who wants to have a healthier snack and who wouldn't mind paying for the ready-to-eat convenience."
He points out that the new product has a potential market that is 10 to 20 times larger than the traditional one.
Meanwhile, Saba hopes the new product will be Bhavani Foods' stepping stone to an initial public offering (IPO). "My son has promised to take the company public as a gift for my 80th birthday," he says, smiling affectionately at Sreenivas.
As Bhavani Foods continues to diversify its product range, an IPO has become more than just a pipe dream. "Let's hope that we get three or four different brands that we can build on. The most difficult thing to build in the food industry is trust," Sreenivas observes.
While today, the approach for anyone in the food industry would be to hit the supermarkets and hypermarkets, 40 years ago, it was about building relationships with the small provision stores. Today, Bhavani Foods has ties with 2,000 to 3,000 outlets in Malaysia and Singapore.
"I hope the IPO will happen in five years … in the interim, we have some bank financing and we are in talks with certain funds as well as venture capital funds and private equity investors. We are also looking at convertible debt and then maybe a mezzanine round of financing. Thereafter, we will be looking at an IPO. Let's see how things pan out," Sreenivas says.
To go public, he adds, the company would be required to expand its present plant, get more frying machines to cope with the demand and set up plants in other strategic locations.
"Essentially, this is very much a start-up. I look forward to the challenges ahead and, hopefully, we will be able to overcome them and keep going. I still have an offer pending to get into the London Business School but I hope I don't have to. If I end up there, you'll know what happened," Sreenivas laughs.