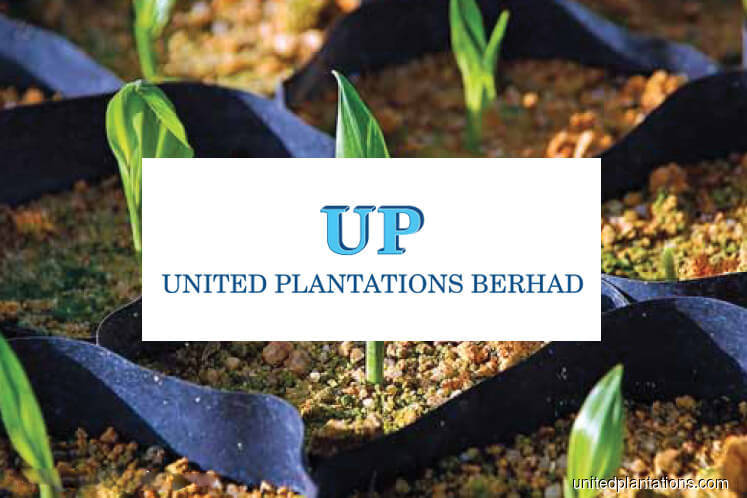 KUALA LUMPUR (Feb 25): United Plantations Bhd, which released its annual report for the financial year ended Dec 31, 2018 (FY18) today, posted a 4.8% decline in annual net profit to RM372.42 million from RM392.98 million a year ago, as revenue weakened on lower palm-related commodity prices.
Revenue declined 11.4% to RM1.31 billion, from RM1.47 billion a year ago. Earnings per share dropped to 179 sen, from 189 sen. 
The group proposed a final dividend of 20 sen, and a special dividend of 90 sen, to be paid on May 15. 
In the annual report, chief executive director Datuk Carl Bek-Nielsen said the revenue decline was mainly due to lower sales prices for palm kernel (PK) in its Malaysian operations, and lower crude palm oil and PK prices in the Indonesian ops.
"In addition, the refinery unit also witnessed a lower revenue, as a function of lower sales prices of palm kernel products," he said.
Bek-Nielsen also shared that the board of directors is expecting FY19 to be weaker than FY18, in terms of financial results.
"With the prices contracted under our forward sales policy and with our Indonesian production improving, coupled with large areas steadily coming into maturity from our replanted areas in Malaysia, the board of
directors expects that the results for 2019 will be lower compared to 2018, but nevertheless satisfactory when taking the prevailing prices for palm oil and palm kernel into consideration," he said.
"Based on the current operating environment, United Plantations is respectful of the challenges which 2019 may bring. Increased focus on cost efficiencies and improved productivity, as well as higher yields, will therefore continue as a vital part of sustaining our positive development.
"Special attention will also be given towards addressing any imminent labour shortages and to further improve on all weaknesses identified in respect of our sustainability journey," he added.
United Plantations does not separately publish its fourth quarterly financial results, as it has previously sought and been granted a waiver from Bursa Malaysia from having to do so in 2015, provided its full audited financial statements are announced by end-February.
The counter closed unchanged at RM26.88 today, giving it a market capitalisation of RM5.59 billion.