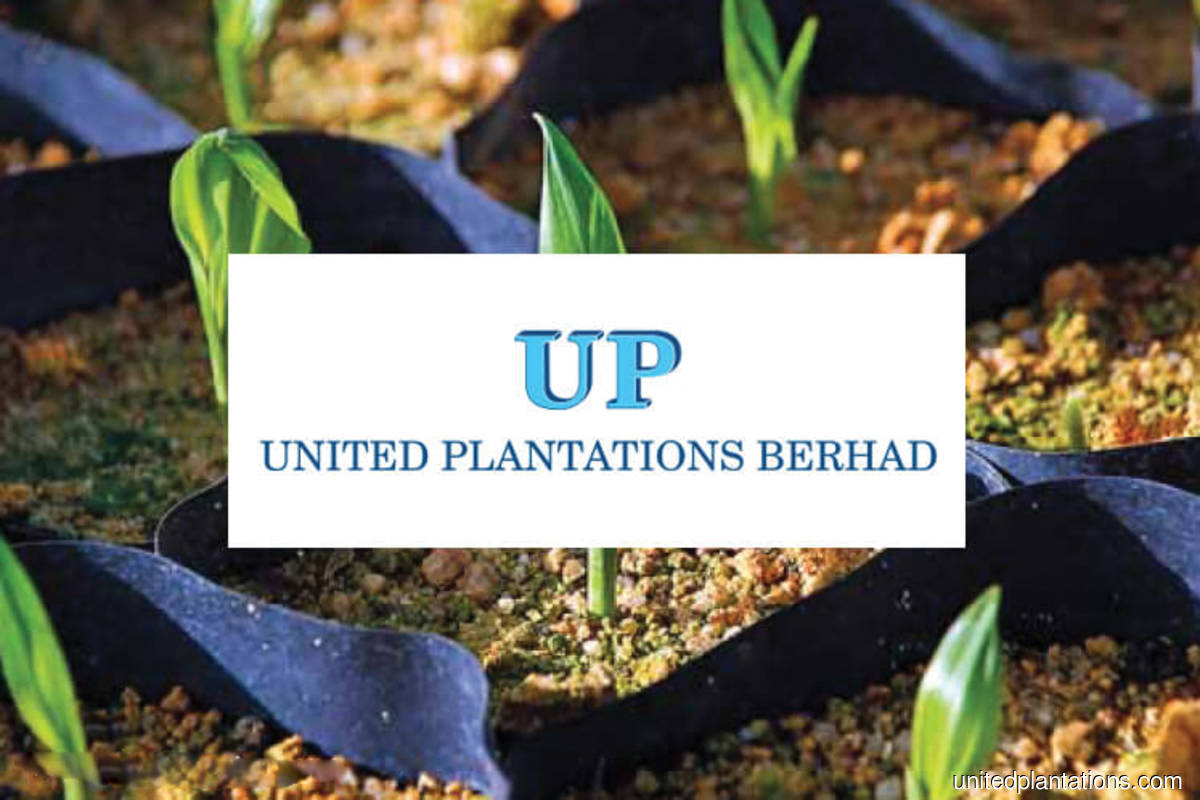 KUALA LUMPUR (Nov 8): United Plantations Bhd saw its net profit for the third quarter ended Sept 30, 2021 (3QFY21) climb 61.71% to RM154.15 million from RM95.32 million in the previous year, on higher contribution from the plantation segment.
Consequently, earnings per share rose to 37.16 sen from 22.98 sen previously.
In a bourse filing Monday (Nov 8), the group noted its quarterly revenue jumped 57.32% to RM525.5 million against RM334.04 million on higher revenue from the plantation and refinery segments.
The group also declared an interim single-tier dividend of 30 sen per share for the year ending Dec 31, 2021 to be paid on Dec 3.
For the nine months ended Sept 30, 2021 (9MFY21), United Plantation's net profit rose 21.54% to RM364.76 million from RM300.1 million, while revenue hiked 48.54% to RM1.41 billion, compared with RM947.26 million a year ago.
On a quarterly basis, its net profit expanded by 13.52% from RM135.78 million, and revenue increased by 9.05% from RM481.87 million.
The group said its board still views the Covid-19 pandemic, as well as the acute labour shortages, as the two largest risks in the foreseeable future.
"However, with UP´s [United Plantation's] positive liquidity and conservative capital resources, the board believes that the company based on the present fundamentals will be able to perform satisfactorily without the need for any asset impairments arising from the current Covid-19 pandemic.
"UP will, in accordance with its replanting policy, continue to replant areas of its older and less productive oil palm stands in Malaysia during the final quarter of 2021," it said.
Furthermore, it noted that cost efficiencies and improved productivities including optimising all possible steps of mechanisation will continue as a vital part of sustaining its positive development going forward.
"With the significant uncertainties related to the consequences of the Covid-19 pandemic, it is difficult to predict the results for 2021. However, based on the increased palm oil prices and the company's ability to avoid any significant crop losses in spite of the acute labour shortages experienced during the year, the board of directors expect that the results for the year will be satisfactory and better than in 2020," it added.
Shares of United Plantations settled two sen or 0.14% lower at RM14.04 on Monday's market close, giving the group a market value of RM5.84 billion.