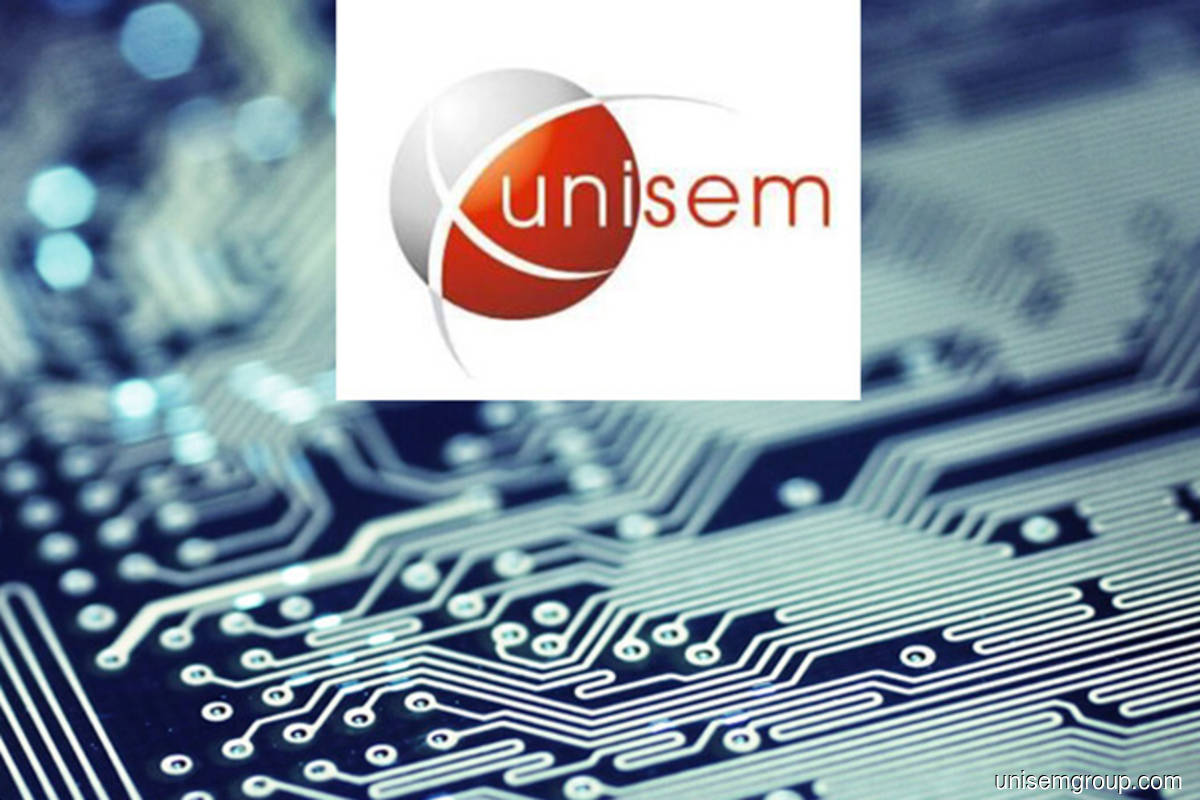 KUALA LUMPUR (Oct 6): Shares of Unisem (M) Bhd have had a 50% downward revision in price on the impending bonus issue of one new share for every piece to be held on Thursday (Oct 7).
In a Bursa Malaysia filing on Sept 22, the group announced a bonus issue of 806.54 million new ordinary shares with ex-bonus issue closing share price of RM4.19 from its original last closing share price of RM8.39.
Bursa explained that on the basis of settlement taking place after Oct 7 with bonus issue of Unisem, shareholders entitled to Unisem issue shares may sell their Unisem shares arising from the bonus issue starting from Wednesday (Oct 6), while the bonus shares will be listed on Bursa on Friday (Oct 8).
At 10.24am, the counter fell 95% to RM4.15 from yesterday's close of RM8.39 with some 207,600 shares traded thus far. Since the start of the Covid-19 pandemic early last year, the stock had rallied some 381% to a record RM9.18 on Feb 19 since the RM1.91 in June 2020.
The semiconductor manufacturer said the bonus shares will be issued to entitled shareholders within four market days after its listing and quotation date.
For the second quarter ended June 30, 2021, Unisem's net profit rose to RM54.64 million from RM33.95 million in the same period last year and RM45.4 million in the preceding quarter. Revenue rose to RM402.2 million from RM310 million last year and RM373.9 million quarter-on-quarter.
In an Oct 6 note, TA Securities analyst Wilson Loo noted that the chip sector remains in a robust upcycle with 19 consecutive months of year-on-year (y-o-y) growth, having hovered at levels above 20% y-o-y in the last five months.
"In August, global semiconductor sales climbed further 3.3% month-on-month (m-o-m) and 29.7% y-o-y to a record high of US$47.2 billion.
"According to the Semiconductor Industry Association, the sustained strong growth in August was driven by all regional markets and major product categories as the industry continued ramping up production to meet robust demand. On a year-to-date basis, sales have increased 25.6% y-o-y to US$351.4 billion, which tracks the World Semiconductor Trade Statistics organisation's latest forecast for global semiconductor sales in 2021 scaling 25.1% y-o-y to a new record high of US$550.9 billion," Loo said.
Loo noted that by geography, August sales growth of 3.3% m-o-m and 29.7% y-o-y was underpinned by all regions, all of which "recorded accelerated m-o-m growth while sustaining y-o-y growth in double-digit territory".
"The US-based Semiconductor Equipment & Materials International in its recent update forecast global front end fab equipment investments to reach new highs of about US$90 billion (+44% y-o-y) in 2021 and US$100 billion in 2022 (+8% y-o-y) with growth fuelled by rising demand for electronics amid digital transformation and secular technology trends," he said, reiterating the research house's "overweight" stance on the sector.
TA Securities ascribed a "buy" call on Inari Amertron Bhd with a target price (TP) of RM4.25, Unisem (TP: RM11.18), Malaysian Pacific Industries Bhd (MPI) (TP: RM60.85) and Elsoft Research Bhd (TP: RM1.25).
"We continue to favour outsourced assembly and test providers, namely Inari, Unisem, and MPI, for their strong sales pipeline and earnings growth prospects backed by their expansion plans.
"We expect them to continue benefitting from strong chip demand amid the acceleration in digitalisation and increasing embracement of emerging technologies like 5G, artificial intelligence, cloud computing, internet of things, and robotics during the pandemic," Loo said, citing a prolonged Covid-19 pandemic affecting economic growth, sentiment, and supply chains, a heightened trade war, weaker-than-expected sales as well as a weakening of the greenback against the ringgit as key risks.