This article first appeared in The Edge Financial Daily, on February 14, 2019.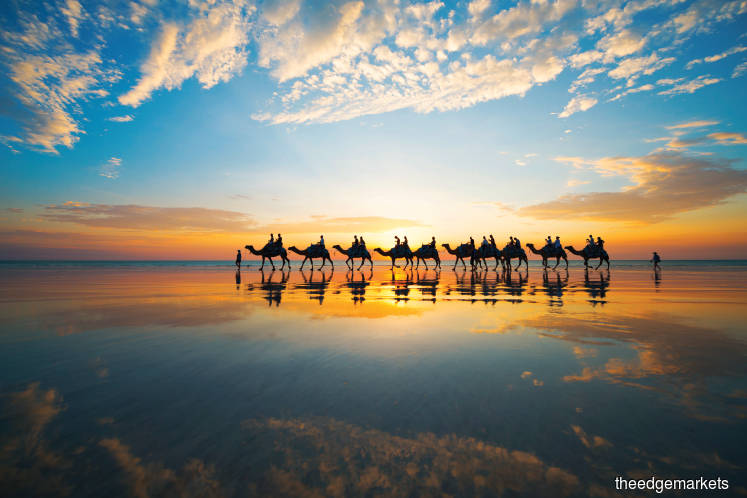 Get swept off your feet in sunny Broome, Western Australia
Australia is a wonderful place to holiday, but it might just be time to eschew the more common destinations of Perth, Sydney and Melbourne or even Brisbane for a smaller, more lesser-known town. Our suggestion is Broome in sunny Western Australia — with its picturesque white beaches, impressive natural landscapes, glistening turquoise waters and rich Aboriginal heritage, is a fusion of peacefulness, intriguing history and culture, making it a must-visit destination this year. Plus, its not even very far away — its just five hours' flight from Changi Airport via SilkAir, which offers Malaysians the added benefit of a short Singaporean stop-off.
With travel becoming increasingly motivated by how 'Instagramable' a destination is, here is a list of five 'Insta-worthy' reasons to make the journey to this charming beach resort town.
Cable Beach: Take an epic sunset camel ride
Another must-visit spot is the world-famous cable beach, with 22km of sun-kissed white sand and magical sunsets. Also, not forgetting the sunset camel rides that have become synonymous with Broome and Cable Beach. It is always a treat to interact with such friendly, gentle and docile creatures! It makes for some great photo ops, with experiences that will last a lifetime.
Staircase to the Moon: Witness a rare natural phenomenon
Feast your eyes and get your camera ready for the natural phenomenon that only occurs during certain times of the year, and only in Australia's North West! It happens when the full moon rises over the exposed mudflats at extremely low tide and creates a beautiful optical illusion of stairs reaching to the moon. It is best seen from Roebuck Bay but can also be seen in other parts of Broome, including Dampier, Cossack, and Hearson's Cove.
Chase Stars in Broome: Explore the galaxy beyond you
Broome's skies are perfect for stargazing, thanks to its cloudless nights and perfect location — it's located perfectly on our planet to see the best of both the Southern Hemisphere and the Northern Hemisphere, which is a stark contrast to the skies in Malaysia. Embark on a discovery tour of Broome's night skies with astronomy experts and explore the multiple galaxies beyond us. Don't forget to bring along your fisheye lenses to capture the stellar night sky!
Horizontal Falls: The view of a lifetime
Described as one of the greatest wonders of the world, the Horizontal Falls is yet another momentous wonder not to be missed. The fast-moving tidal current squeezes through two narrow gorges, pushing the water into rapid-like formations which rush through the twin gaps, producing waterfalls turned on their side. There are many ways of getting there, with a variety of different tour options to choose from. You can view the Horizontal Falls from the air with a scenic flight from Broome or get up close with an extended cruise. For the adventurous, take a float plane and land at the Horizontal Falls. Hold on tight as you take a thrilling boat ride through the rushing water torrents.
Roebuck Bay: Marvel at its untainted beauty and wildlife
Staircase to the Moon isn't the only 'Insta-worthy' spot at Roebuck bay — sink your feet in its red sand beaches, and soak in the contrasting colours of the sand and sea. Roebuck bay is also home to a diverse ecosystem and a wide variety of wildlife. Go on an eco-tour and catch glimpses of dolphins, a myriad of marine life and migratory birdlife.