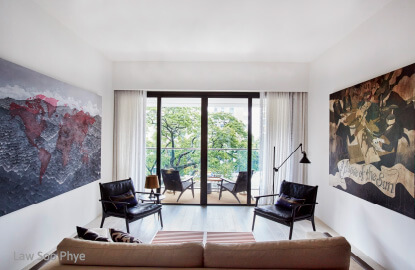 This article first appeared in
haven, The Edge Malaysia,
on Issue #82 December 2016 - February 2017.
A frenetic pace of life demands tranquility and the adherence to the dictum of 'less is more' 
 
Amid the frenzied landscape of the Kuala Lumpur city centre, public relations guru Chong Wei-Hsiang of Milk PR has artfully crafted an oasis of tranquility in his 2,400 sq ft apartment in a low-density development in Ampang Hilir. "When I approached my late thirties, my life was all about simplifying and un-embellishing. The concept of the apartment was very clear to me from the beginning. I wanted to be able to move through the space in a fluid and uninterrupted way. And blank spaces were to be filled with art," says the 42-year-old managing director. 
The open concept of his home allows Wei, as he prefers to be addressed, to work on his laptop anywhere — in the kitchen, living room, study or bedroom.
The space
Upon stepping out of the private elevator, one is in the living room. Contemporary artworks comprising paintings and sculptures are displayed in the manner of an art gallery. 
Designer furniture and lighting, such as the Minotti square dining table, Carl Hansen & Søn chairs and Vibia lights, adorn the minimalist living space. To complement the dining table, Wei, selected iconic Wishbone chairs, which were one of the very first models Hans J Wegner designed especially for Carl Hansen & Søn, and which have been in continuous production since 1950.
Originally a three-bedroom apartment, the unit was remodelled to become Wei's ideal living space, complete with a master "quarters". The space is well thought out, with the bed facing the windows overlooking the lush greenery around the swimming pool. This is intended to achieve calmness, reflecting the yoga practitioner's spiritual side. 
A section of the bedroom is dedicated to his collection of books; a reading corner and small desk behind the bedframe offer a reflective working environment.  
Adjoining the bedroom is a powder room and bathroom followed by a walk-in closet. Wei's apparel is neatly arranged — blazers, jackets and trousers are lined up in a section with crisply pressed shirts in another. Suitcases from brands such as Globe-Trotter, Rimowa, Goyard and Louis Vuitton reveal Wei's love of travel. The rooms in the master "quarters" do not have doors, allowing Wei to move around unimpeded. 
"Home is a space where I have tried to integrate curated and commissioned art pieces into the design of the interiors. My interior architect, Katrina Taib, also helped me find the right balance between expression and restraint that respects the context of what I imagine my home to be," he explains. The nine-month renovation was managed by Katrina's interior architecture agency, Bilamana, which means "whenever wherever".  
Separated from his private quarters is the guest bedroom with en-suite bathroom. A large artwork by contemporary artist Fazrin Abdul Rahman depicting an intertwined pattern using aluminium strips in silver, white and peach adorns one wall.   
In the kitchen, the light above the customised marble island countertop is by Vibia, a Spanish lighting company with global presence. Named Wireflow Lineal, the model is designed by Arik Levy. The linear luminaire consists of two thin wires suspended from the ceiling and are freely shaped like diamonds or cobweb using a steel rod. The three sets of Wireflow Lineal give the kitchen a purely understated look. 
 The area was planned to accentuate the sleek clean lines, using materials such as wood and marble to create the illusion of space. Wei designed the kitchen island, which has a marble counter top and wooden legs with black wooden tips, and had it custom-made by Friske, a maker of high-quality bespoke and handmade furniture based in Kuala Lumpur.  
The art
"I have travelled ever since I was a child. My parents put me on a flight from Ipoh to Singapore — unaccompanied — when I was probably five, to visit relatives," recalls Wei. The years of travelling as well as his profession have influenced his immaculate taste in art and design. In fact, the first artwork he acquired, ten years ago, was contemporary artist Ivan Lam's aptly titled painting, Travelled the world to search for what I need only to realise that it has been with me all along.
"I don't 'collect'. Instead, I 'buy' recreationally (and randomly), based on my eccentric personal preferences, works that are either suggestive or consequential to me. What I have aren't entirely multifaceted. And if there is a hint of intent and direction, it is not something that I had set out to achieve. What I do have are small pockets of pleasure and a tribute to life and its many experiences," says Wei.
On the walls are artworks primarily sourced from Taksu gallery, a leading Southeast Asian contemporary art gallery and specialist established in 1989 with bases in Kuala Lumpur, Singapore and Bali. "While there is no conscious preference for style, subject or choice of artist when deciding what to purchase, my collection as a whole has some significant similarities. There is perhaps an unconscious tendency to select artworks that tackle subjects with political and environmental commentaries, such as Najib Bamadhaj and Khairy Shamsudin's works, and a Mahathir portrait by Syahmi Jamaluddin," explains Wei. 
"I also have some pieces that are inclined to evoke psychological observations in the human mind and spirituality, such as Hahn (Handra Halim)'s soldier sculpture in a meditative Buddha-like pose, Azrin Mohd's electric chair diorama and Khuzairie Ali's Mind Bridge 1,2,3, 4, 5 & 6 ceramic works." 
"Aesthetically, most of the work at home is monochromatic with minor colour accents, and is saturated with urban appeal and quality. I believe that is what makes the pieces 'pull together' in terms of the apartment's interior architecture and design," adds Wei. And, as a surprising touch of whimsy, a set of four vintage Dutch gin bottles, acquired during Wei's diving trips in Western New Guinea, is neatly displayed on one of the kitchen shelves.
Also interesting are the fragments of bronze sculptures focusing on hands doing the mudra, a symbolic or ritual gesture in Hinduism and Buddhism. While some mudras involve the entire body, most are performed with the hands and fingers. A spiritual gesture and an energetic seal of authenticity, a mudra is employed in the iconography and spiritual practice of Indian religions. Wei has been practising yoga for 10 years. In yoga, mudras are used in conjunction with pranayama (yogic breathing exercises) generally while seated in the Padmasana, Sukhasana or Vajrasana poses, to stimulate different parts of the body and to affect the flow of prana (universal principle of energy or force). 
"The hands were collected during my travels — to China, Hong Kong, India, Tibet and Nepal. They were originally attached to full statues, and one of the stories I heard was that, in difficult times, the hands and feet of these family-owned statues were removed and sold for food or other essentials. They are around 200 years old," says Wei. "The mudras are symbolic hand gestures and finger postures that represent different ideas of spiritual significance, with each mudra having its own name. For example, the abhaya mudra represents fearlessness, or inner strength.
"I believe that finding a certain stillness in life begins in/from the very core of one's own home. Hence, having a space that is intelligent and purposeful, and that resonates with my personal convictions (art that 'calls out' to me, books and good design) allows me to live not only beautifully, but also meaningfully," Wei adds. 
It is evident that there is a sense of spirituality or even raised consciousness in his private living space. Home sweet home? Home sweet Om, more like.