This article first appeared in The Edge Financial Daily, on October 23, 2018.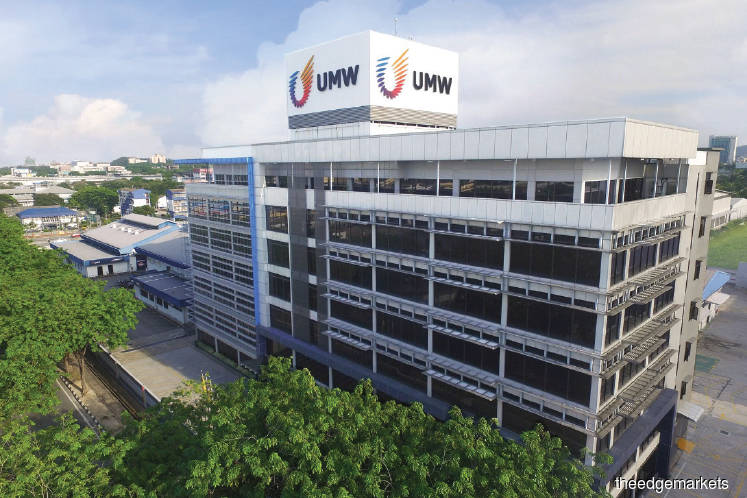 UMW Holdings Bhd
(Oct 22, RM4.70)
Upgrade to buy with a higher target price (TP) of RM6.30: We expect softer sales volume moving into the fourth quarter of 2018 (4Q18) due to advanced purchases during the tax holiday period. Moving forward, UMW Holdings Bhd (UMW) will launch numerous models — the Vios, Camry and possibly the Yaris as well as the new Perodua sport utility vehicle (SUV) between 4Q18 and the first half of 2019 (1H19).
The alliance with Komatsu will allow UMW to better access a wider range of Komatsu products and penetrate deeper the construction and mining sectors within existing markets. Overall, we expect the equipment earnings to grow compound annual growth rate of 7.5% over financial year 2017 (FY17) to FY20 estimate (FY20E), supported by a resilient leasing business from the industrial equipment sub-segment in the warehouse and logistics sector.
The manufacturing and engineering (M&E) segment's break-even point may take some time. Technical problems with the Rolls-Royce Trent 1000 aircraft engine may prolong the start-up losses incurred at the M&E business (1H18/FY17 loss before tax at RM3.4 million/RM29.5 million). This led UMW to reduce the fan cases target to 70 units from 80 units for FY18.
UMW's takeover of MBM Resources Bhd is still in the balance. We believe the MBM takeover offer price of RM2.56 remains unattractive (at below our TP of RM3.27) — it values MBM at a 30% discount to its net asset per share; additionally, the RM4.2 billion implied price tag values Perodua at 9.5 times 2017 price-earnings ratio (PER), which appears low.
Upgrade to a "buy" call on compelling valuations. UMW's share price fell drastically by 26% quarter-on-quarter on possible concerns over the UMW-MBM deal falling through and weaker prospects of auto sales after the sales and service tax's reimplementation. Nonetheless, we raised our FY19 to FY20E earnings per share by 13% to 29%, in view that the aforementioned model launches will lift car sales as well as a modest growth from UMW's other two core segments. Hence, we believe there is an upside potential, as the stock is trading at 35.5% discount to the current sector forward PER of 15.4 times. Upgrade to a "buy" call with a higher TP of RM6.30. Downside risks include higher-than-expected losses of oil and gas assets and weaker-than-expected vehicle sales. — Affin Hwang Capital Research, Oct 22