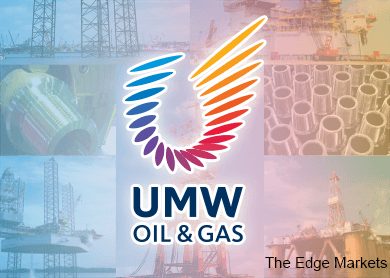 KUALA LUMPUR (Sept 2): UMW Oil & Gas Corp Bhd (UMWOG) officially took delivery of its latest jack-up rig, UMW Naga 8, from Keppel FELS Ltd, a subsidiary of Keppel Offshore & Marine Ltd.
In a statement today, UMWOG said UMW NAGA 8 is designed to address higher requirement market, and it is the third KFELS B Class jack-up rig in UMWOG's fleet; the first two being UMW Naga 4 and UMW Naga 5, which were delivered in 2013 and 2014 respectively.
Similar to both its predecessors, UMW Naga 8 is a premium jack-up drilling rig capable of operating in water depths of up to 400 ft (approximately 125 metres) and drilling to a total depth of 30,000 ft (approximately 9,144 metres) sub-sea.
"Equipped with the newest and most technologically-advanced equipment, additional features include an advanced and fully-automated high capacity rack and pinion elevating system, self-positioning fixation system and facilities capable of accommodating 150 personnels," UMWOG added.
Present to receive the rig at Keppel FELS's yard was UMWOG president, Rohaizad Darus.
"At 400 feet water depth, this latest rig will enable us to address a niche market, where there is lesser competition. The additional asset will also provide us with the capacity to cover a wider market, both regionally and globally, to continue our growth once the market recovers," he said.
UMW Naga 8 is currently being prepared to be mobilised for a potential client in Southeast Asia.
At 10.59am, UMWOG traded unchanged at RM1.02, for a market capitalisation of RM 2.21 billion.