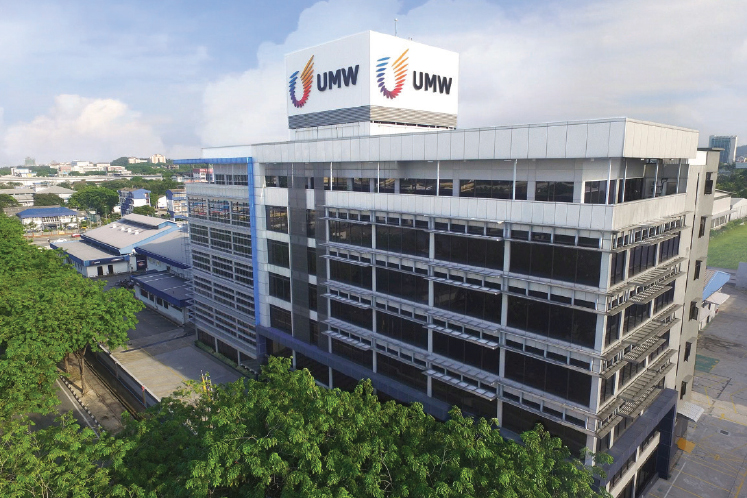 KUALA LUMPUR (June 15): UMW Holdings Bhd's net profit for the first quarter ended March 31, 2020 fell by almost half as the impact of the Covid-19 pandemic weighed on its automotive and equipment segments.
In a bourse filing, UWM said the net profit fell 48.76% to RM44.32 million, from RM86.5 million in the corresponding quarter last year. Earnings per share dropped to 3.79 sen from 7.4 sen.
Quarterly revenue dropped 23.77% to RM2.12 billion from RM2.8 billion previously.
UMW said its auto segment saw revenue fall 26.7% to RM1.59 billion from RM2.16 billion on the back of slower vehicle sales.
This resulted in the profit before tax (PBT) retreating to RM53.7 million from RM124.2 million.
UMW's equipment segment saw revenue come in lower at RM289.15 million, from RM382.84 million a year earlier, following sluggish demand for heavy equipment and industrial equipment.
The segment's PBT fell to RM25.77 million from RM42.16 million.
In contrast, UMW's manufacturing and engineering segment posted a higher revenue of RM248.53 million, compared with RM237.1 million previously, due to a higher volume of fan cases delivered by the group's aerospace business.
Segmental PBT was up to RM10.5 million, from RM2.3 million a year ago following higher aerospace revenue and greater contribution from its lubricants business.
On its prospects, UMW is cautiously optimistic about improving demand for its vehicles post Movement Control Order.
The group said it will continue to launch "a pipeline of exciting new models to soften the impact of market slowdown".
Furthermore, the 100% sales tax exemption on completely knocked-down vehicles and a 50% exemption on completely built-up vehicle sales tax will help the group, it said.
As far as its equipment segment is concerned, UMW said the heavy equipment subsegment may face sluggish domestic demand due to the delay in the implementation of projects following Covid-19.
However, the demand for its mining and construction sectors abroad is encouraging, and will help soften the blow from its heavy equipment segment, the group said.
For the industrial equipment subsegment, it will continue to focus on expanding its equipment rental business while extending recovery packages to customers, it added.
Despite the expected slowdown in new vehicle sales, UMW said demand for auto components in the aftersales and overseas markets is expected to be sustainable, with the lubricants business to continue leveraging on original equipment manufacturer partners, and strengthening sales in the domestic and Asean markets.
While the aerospace subsegment is expected to face some adverse headwinds due to Covid-19, UMW is partially sheltered due to firm fan case orders received for the rest of the year.
"The group will continue to focus on strengthening its core business segments and strategic cost optimisation initiatives to improve its business performance and operational productivity.
"Amidst the unprecedented challenging business environment, the group will strive to maintain its performance in 2020," it said.
Shares in UMW finished 5.02% or 14 sen lower at RM2.65, valuing the group at RM3.1 billion. The counter saw 3.54 million shares transacted.