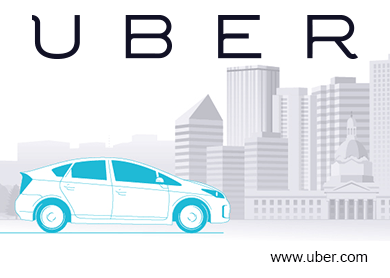 (June 26): Uber, the smartphone app that connects people with private drivers within minutes, is launching in Penang today.
The island is the third location in Malaysia, after Kuala Lumpur in 2013 and Johor Baru last year, to introduce Uber drivers, making the nation the only Southeast Asian country to have three cities moving with Uber.
For starters, Uber will have about 100 drivers to service the demands of passengers in the busy George Town area now, but the number is expected to grow quickly.
Uber Technologies strategic planning head and general manager in South East Asia Chan Park, and Uber Everywhere (Malaysia) general manager Kenny Choong are positive that the service will soon be extended to mainland Penang.
Choong said introducing Uber to Penang was in line with the demand for the service, according to data collected that people had tried to use the Uber app to get drivers before it was available.
"It shows that people from all over the world want to use Uber in Penang," he told reporters at a press conference in George Town yesterday afternoon.
Choong said Uber would provide riders with a safe and reliable mode of transport, drivers with economic opportunities and ease the road congestions in the city.
Park said Uber users in Penang should be able to expect their drivers to pick them up from their respective locations in the city after a short wait of less than five minutes, if the same could be achieved in congested cities like Beijing and Kuala Lumpur.
Uber is expanding its reach in Malaysia amid ongoing discussions with regulators like the Land Public Transport Commission (SPAD), which had seized vehicles without permit to provide transport services, including those on the Uber app.
Uber had also reportedly caused unhappiness among taxi companies nationwide.
Park said Uber has invested heavily in Malaysia and regulators were also aware of the latest expansion to Penang.
He said Uber had been misunderstood when its intention was never to take away a slice of the pie, but to solve problems by providing a platform for safe and reliable transportation, creating thousands of jobs for drivers and reducing traffic.
"There is a lot of talk about taxi versus Uber but it is not like that. Drivers like Uber," he told The Malaysian Insider after the press conference.
"Drivers can make money while having the most flexibility with the Uber system, compared to any other alternative.
"With a taxi, they rent it for 24 hours or a month and face pressure to work the shift. That can cause inefficiency.
"Uber is saying do it with flexibility. Drive when you are free after you have sent your kids to school, finished your errands and family commitments.
"We provide the tech and you use it to earn money," he said.
Now with Uber in more than 300 cities around the world since it began in San Francisco five years ago, Park said taxi drivers liked Uber and many had "migrated" to use the app to make their living.
He said once they did the maths, they saw what they could get out of using Uber, which would allow them to drive the amount they could afford and to focus on busy hours when the demand for drivers was high.
"We reject the notion that taxi drivers are unhappy.
"They don't see Uber as a threat," he said, adding that it was a natural reaction for some to reject a new product or be hesitant to accept it.
Park stressed that Uber's intention was not to disrupt the taxi services but to disrupt private vehicle use, making people leave their cars at home, so city roads would not be so congested.
He said one Uber driver could easily provide a service to 20 people a day and help reduce the need for 20 cars to be on the road.
"We are successful not because we are taking away taxi revenue.
"We are doing well because people leave their cars at home," he said, adding that he himself and his parents had all become Uber riders, with his father even driving for Uber.
"Previously, our only alternatives were carpooling, and taking the bus or taxi.
Park would not elaborate on how talks were going with SPAD and other stakeholders, including non-governmental organisations, except that the engagement was active.
He said Uber was positive that governments and regulators would see the values and benefits Uber was trying to bring to the local community.
He cited how the Filipino government had been so forward-looking in recognising ride-sharing as an industry.
"We really believe that we have the best solution that offers safety, jobs and reduced traffic congestion. I cannot think who would not like that.
"So we are committed to sit down with the authorities to figure out how to make it work," he said, adding that Uber would be happy to be regulated but there was a need to change and revise existing regulations to include new online business models like Uber to protect all interested parties.
"We need to adopt sets of regulations with technological advancements in mind.
"Many laws we have now were written before the Internet."
To use Uber, a rider downloads the free Uber app on to his or her smartphones, registers with a valid credit or debit card, and then requests a driver.
The nearest driver will be alerted and given the name, contact number and pick-up location once the request is accepted.
The rider will get a notification that the booking has been confirmed along with details of the driver and vehicle.
The rider can also track the arrival time of the driver.
The trip fare will be calculated using global positioning system (GPS) and forwarded to the Uber servers for accurate billing and immediate receipt generation.
The fare is then billed automatically to the rider's credit or debit card.
In Penang, the cars available on the Uber platform are Perodua Myvi, Proton Saga and Toyota Vios.
Like in everywhere in the world, Uber drivers are all background checked, without criminal records and tested to determine they are safe drivers before they are taken on. – The Malaysian Insider