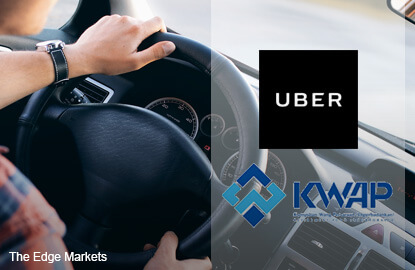 KUALA LUMPUR (Sept 22): Uber Technologies Inc today confirmed that it has received an investment from Kumpulan Wang Persaraan (Diperbadankan) or KWAP, the country's public-sector pension fund.
In a statement today, Uber said this is KWAP's first direct investment in a foreign company.
This confirms a Reuters report yesterday (Sept 21) that KWAP has invested in Uber and was looking to pump more money into technology firms.
KWAP chief investment officer Datuk Wan Kamaruzaman Wan Ahmad was quoted as saying that the pension fund had committed to a US$30 million (RM124.2 million) investment in its "first disruptive technology deal" in a foreign firm.
Uber, however, did not disclose the amount that KWAP had poured into the ride-sharing service provider.
"We are delighted that KWAP of Malaysia, one of the biggest pension funds in Southeast Asia, is investing in Uber. Malaysia has demonstrated its forward-looking position in embracing new technology to help solve transportation challenges and create more economic opportunities," said Uber CEO and co-founder Travis Kalanick.
The statement also quoted Wan Kamaruzaman saying, "We are excited to make Uber our first direct investment in a foreign company. This is part of our efforts to become a diversified global investor. Uber is an exciting company that is changing the way the world moves, and we believe ridesharing has huge potential to transform the future of mobility."
Uber launched in Malaysia in January 2014 and currently operates in Kuala Lumpur, Johor Baru, Penang, Ipoh, Kota Kinabalu and Kuching.
Uber operates in more than 400 cities worldwide, including six in Malaysia (Kuala Lumpur, Penang, Johor Baru, Ipoh, Kota Kinabalu and Kuching). Globally, more than five million trips occur every day, on average, supplied by over 1.5 million active driver-partners.