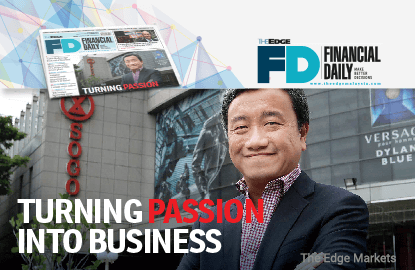 This article first appeared in
The Edge Financial Daily,
on October 17, 2016.
KUALA LUMPUR: After a two-and-a-half-year hiatus, Datuk Alfred Cheng Yoong Choong, the former group managing director of Singapore-listed Parkson Retail Asia Ltd and Hong Kong-listed Parkson Retail Group Ltd, is back.
Cheng, who was instrumental in expanding the Parkson department store footprint in the late 1990s, especially overseas, is returning to the local retail scene but in a new role — as group managing director of Sogo (KL) Department Store Sdn Bhd (SKLDS).
The 52-year-old has become a co-owner of SKLDS, which operates the eight-storey Sogo Kuala Lumpur shopping mall in Jalan Tuanku Abdul Rahman, and there are some interesting changes in store for the Japanese department store chain to be excited about.
In his first media interview after his return, Cheng said since he quit in May 2013 after a 25-year career at Parkson Group, he has spent the better part of the two and a half years travelling around the world and spending time with his family in London.
"Save for a little bit of involvement in my own private family investments, I was basically just relaxing," he told The Edge Financial Daily.
Recalling his decision to take a career break, Cheng said: "[At the time] I was getting a bit tired of [non-stop] travelling from one less developed country to another, finding and developing new markets [for Parkson] every one and a half years. I was pretty much doing the same thing over and over."
At one point, Cheng found himself on the road three weeks out of four. "When there was a long weekend, I would go back to London to be with my family and stay for three to four nights before flying back to work. But really, it wasn't the way to live a proper family life. That's the main reason why I left Parkson."
The break's done good things for Cheng. According to him, his passion for the retail industry remains strong, thus his coming back came naturally after meeting by chance with Datuk Andrew Lim Tatt Keong, the managing director and a controlling shareholder of SKLDS, last year.
"Andrew and I bumped into each other at a café in one of the shopping malls here. I recall it was a Saturday and I was in my shorts. Then we made arrangements to meet up. We talked about the possibility of doing things together and that's how it developed into a joint venture (JV)," said Cheng.
In June last year, Cheng — through his family-controlled Singapore-listed investment vehicle LTC Corp Ltd — acquired a 50% stake in USP Equity Sdn Bhd from Lim's private vehicle USP Resources Sdn Bhd for RM70.14 million cash. USP Resources has been holding a 90% stake in SKLDS since Nov 10, 2002. The remaining 10% is held by Tradewinds Resources Sdn Bhd, a company controlled by tycoon Tan Sri Syed Mokhtar Al-Bukhary.
Since last November, Cheng and other top SKLDS executives have started formulating the company's new multi-year strategy. Now it's time to put the plan, with apt motto "Team Sogo — One Team, One Dream", into high gear.
That new path forward entails tripling SKLDS' revenue to RM1.8 billion and increasing the number of stores in the country to nine in the next five years. "By 2020, our retail space will increase to 2.1 million sq ft from 600,000 sq ft now," said Cheng.
A check on the Companies Commission of Malaysia's website revealed that SKLDS' net profit lodged for the financial year ended March 31, 2014 (FY14) was held steady at RM20.12 million compared with RM20 million in FY13. Revenue was RM635.49 million compared with RM631.58 million in FY13.
Cheng said the company is sitting on a net cash position, but he declined to reveal the figure. "Our business is still quite robust. We are going to spend RM200 million to develop new stores and this will be generated from our operating cash flow. We don't intend and there is no necessity for us to seek bank loans."
SKLDS' new strategy in terms of merchandise, brand and store development is premised on three major trends.
"Today's department stores serve as social destinations. They are no longer just a place for you to shop, but one where you can shop, eat, get your hair done, even get some non-evasive non-surgery treatments done, get a massage, book a holiday and learn cooking, among others. As such, we plan to bring in a wide array of product lines and services, as well as Japanese-inspired food halls [to Sogo Kuala Lumpur and its future stores]. We want the time spent in our stores by our customers to increase over time.
"I envisage future department stores will be bigger and better. Bigger means our minimum [retail] floor size will be about 200,000 sq ft to 300,000 sq ft per store as opposed to the current existing department stores operated by some of our competitors, which typically measure between 100,000 sq ft and 150,000 sq ft," he said.
But it also means that SKLDS' retail store locations will be limited. "We will be very selective when it comes to the locations we select. We want to be only in the best catchment areas and within the best catchments, we want to be the No 1 store. We will not have any other [Sogo] store in the same catchment. I don't believe in that. I believe the future will be [about] more limited store locations, but each store will be the flagship of that catchment, offering a wide array of products and services," Cheng added.
The second trend sees department stores operating in a posher environment. On its part, SKLDS is spending about RM40 million to RM50 million over three years to give Sogo Kuala Lumpur a posher look, which opened its doors 22 years ago. Sogo Kuala Lumpur currently occupies a leased premises owned by the Employees Provident Fund, which expires in 2035.
Cheng said refurbishment work will be done in stages to minimise its impact on the store's customer footfall. Currently, less than half or 340,000 sq ft of the store's total retail space is utilised.
"We think we need to give Sogo Kuala Lumpur a posher look and bring in posher brands. But this doesn't mean we have to sell a lot more expensive merchandise. It is what we call 'push for posh'. For example, retailers like H&M and Zara sell very affordable fashionable clothes and yet offer an environment that is nice and posh. Retail is about meeting the needs of customers. At the end of the day, if this location (Sogo Kuala Lumpur) is such that customers are still looking for good value, we will still provide them that. It doesn't mean that they cannot be accompanied with better service and [a] better environment," he added.
"The third trend of the future is the passion for fashion. These days, with social media, every consumer can become your own stylist, which means that the brands we carry must have strong fashion content. Our strategy would be to promote more global and aspirational brands. These brands will be more emotional and will appeal to  customers of the future.
"Additionally, we will look at bringing some new Japanese brands — some brands with exclusive collections and some brands that everyone wants to look at," Cheng noted.
Already, SKLDS has identified the locations of the department stores it plans to open at. Earlier this month, the company entered into an agreement with TRX City Sdn Bhd, a wholly-owned subsidiary of the finance ministry, to bring the first Seibu department store to the 17-acre (6.88ha) Tun Razak Exchange (TRX) Lifestyle Quarter.
"We have signed on as an anchor tenant in a shopping centre there, taking up 250,000 sq ft of space. I believe TRX City will be the next centre of commercial office and residence [for Kuala Lumpur], just like KLCC was in the mid-1990s to mid-2000s. And since Pavilion Kuala Lumpur opened [in Jalan Bukit Bintang], the area has been the centre of the city from mid-2000s until now," said Cheng.
SKLDS will also open a Sogo department store in the Central i-City shopping mall in Shah Alam, Selangor, via a JV with Central Pattana Public Co Ltd of Thailand. The mall is reportedly set to open in October 2018.
Other Sogo stores will be located at [email protected] Northgate in Selayang here, Mayang Mall in Kuala Terengganu and Prai Mall on the Penang mainland, which is touted to be the largest shopping mall in the northern region by Belleview Group.
"There are three other sites we are working on, but I am not at liberty to disclose them as yet as they are currently being finalised.
"We don't foresee opening too many Seibu department stores in Malaysia. We might eventually have two or three of them, and 12 to 15 Sogo stores. But for the next five years, we have earmarked nine stores, out of which eight will be Sogo stores and one Seibu," he added.
Under a trademark licence agreement, Japan's Seven & I Holdings Co has granted SKLDS an exclusive licence to use the "Sogo" trade name in Malaysia.
Apart from Seibu, Cheng said the Japanese retail group also operates other speciality franchises such as Loft and Parco, which SKLDS plans to bring into the country.