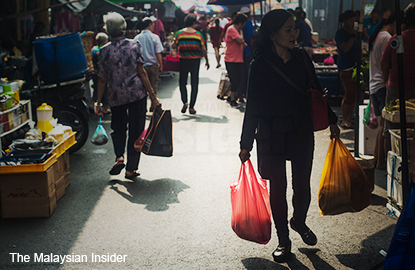 KUALA LUMPUR (Oct 22): After school, 9-year-old Nor Atiqa sits idly for hours on her grandfather's motorbike on the porch of their rented home in an Ipoh neighbourhood, looking at passers-by.
Although other children would be busy with tuition, piano lessons and sports activities in the evening, the family of the primary school pupil from Kampung Manjoi cannot afford to send her for any of these classes.
Nor Atiqa lives with her grandparents, Ramli and Sarimah, as her parents are divorced.
Sarimah laughs when asked if her granddaughter attends any tuition classes.
"We barely have enough money to eat, how to send her for tuition?
"My own son needs tuition, his report card is full of red marks. He will be sitting for the Form Three Assessment (PT3) exams next year.
"He keeps telling me all his friends are going for tuition, especially in Maths and English, but I told him we can't afford it," she said of her youngest son, who is 14 years old.
Ramli, 51, works two jobs to make ends meet, and after paying RM500 for rent and utilities and RM250 for monthly groceries, he has hardly anything left from his RM1,200 income.
Struggling with their strained finances, the couple hopes the government will abolish the goods and services tax (GST) which they blame for the higher price of food these days.
"We are definitely eating less after GST.
"It not only affects us, the poor, it also affects beggars – whatever donations given to them, they still need to buy food which is subject to GST, so we are really suffering," Sarimah said.
For single mother Banu, 33, from Serdang, tuition for her three daughters is a "luxury" she can ill afford.
She stopped sending them for tuition last year after her husband went missing 11 months ago to avoid creditors.
Her eldest daughter, 16, helps her two younger sisters aged 12 and 11 with their schoolwork as Banu's RM800 kindergarten worker salary cannot pay for tuition.
This is despite her toiling in the wee hours of the morning, preparing nasi lemak to sell before she heads to work at the pre-school centre near her home.
In a good month, she makes about RM500 from the food business.
"My biggest expense is their school transport fees, RM300 for the three of them.
"And I spend RM500 for groceries, which includes the items needed for my food business, and there is rent of RM450 to pay.
"With my income, how can I send them for tuition?" she said.
Banu said even buying food from the school canteen was a luxury, so her three daughters packed food from home every day.
She added however that she would give them RM2 each as pocket money for drinks, especially after extra-curricular activities in school.
Eating out is out of the question for this all-female household.
Like Ramli and Sarimah, Banu blames the GST for their tougher life these days.
For these families, the promises by Prime Minister Datuk Seri Najib Razak that Budget 2016, to be tabled in Parliament on Friday, would have provisions for low-income households, are a much needed lifeline.
Compared with Ramli and Banu, Nurul Azila Ismail, 37, from Gombak earns substantially more, making about RM3,000 a month as a home tutor.
But the single mother has six children, aged between four and 14, to care for.
The former bank employee goes from home to home giving tuition from 3pm until 11 at night, and relies on her older children to look after the two youngest girls, aged five and four, as Azila cannot afford to send them to daycare or even hire a babysitter.
She said she was lucky to be a tutor as she would never be able to send her children for tuition classes.
But this was not without its disadvantages, she added.
"Even an experienced schoolteacher finds it difficult to teach their own kids, but I have no other choice," she told The Malaysian Insider.
Azila said her children also packed food to school and that eating out was a once-in-three-months affair for them.
"To be able to have McDonalds once in three months is a luxury for us. Usually, I would make sandwiches and we would go to a park and make an event out of it just to create some excitement for the kids," she said.
Azila added that her income was substantially less between November and January as that is the off-peak time for tuition. During these months she hardly makes RM1,000.
As such, she needs to set aside money every month for the extra lean times.
Azila also puts aside her personal needs for make-up and clothes as she focuses on meeting the needs of her children.
"I only buy a new pair of shoes when the existing pair cannot be used anymore.
"And I hardly get myself new clothes for Hari Raya, but I make sure my kids get a new pair each, that's the least I can do."